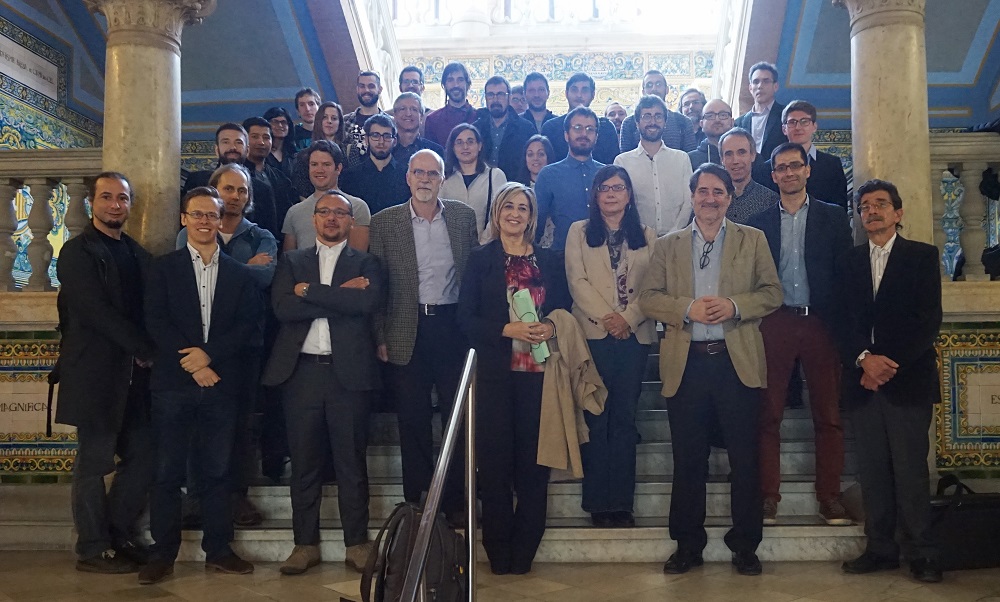 On April, 11-12 took place in Barcelona the kick off meeting of the new Graphene Flagship Work Package devoted to Biomedical Technologies, one emerging application area for graphene and other 2D materials. The Kick-off event, was co-organised by Dr. Rosa Villa (CNM-IMB-CSIC, CIBER-BBN) Scientific Coordinator of Unit 8 of NANBIOSIS (in the center of the first row in the photo). More than 35 Scientifics from 14 research groups attended to the meeting
The Graphene Flagship, the EU's biggest ever research initiative, involves the coordination research of over 150 partners from more than 20 European countries withing a timeframe of 10 years. This project is implemented as a total of 15 research Work Packages on specific science and technology topics. The new Work Package will focus on the development of implants based on graphene and 2D-materials with therapeutic functionalities for specific clinical outcomes in neurology, ophthalmology and surgery, between other disciplines that will be further developed in the next phases of the Graphene Flagship.
The launch meeting held on 11 and 12 April in the Convalescence House of the Autonomous University of Barcelona (UAB), was co-organized by the ICN2, the National Microelectronics Centre (CNM-IMB-CSIC, CIBER-BBN; researcher Dr. CSIC. Villa Rosa) and IDIBAPS. This meeting began with two lectures given by well known neuroscientists, Dr. Gerardo Conesa, chief of neurosurgery at the Hospital del Mar (Barcelona) and Dr. Xavier Navarro,  the Institute of Neurosciences at the UAB and belonging to CIBERNED.