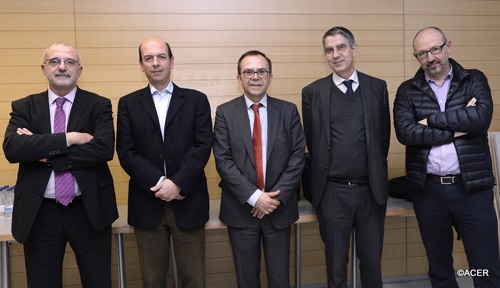 Josep Samitier, Scientific Director of Unit 7 of NANBIOSIS, was named new president of the Associació Catalana d'Entitats de Recerca (ACER).
Associació Catalana d'Entitats de Recerca (ACER) is an independent association of more than 40 institutions in Catalonia – including CRG, IRB, ICFO, IBEC, VHIR and IDIBAPS – which conduct research as their principal mission. The collective vocation of the associated organisations is to contribute to defining the scientific and research priorities and policies in Catalonia, and to optimise their management and implementation in their respective areas  by representing its associated centres, encouraging collaboration and the coordinated exchange of information, promoting synergies with similar agencies related to local, national or international research, and contributing to the improvement of scientific understanding in society.
The Director's Board, (in the picture) is the chartered body that rules, manages, administrates and represents the association, and its members are chosen by the General Assembly. The President and Secretary of ACER are also those of the Board, and are chosen by the General Assembly from among its members.