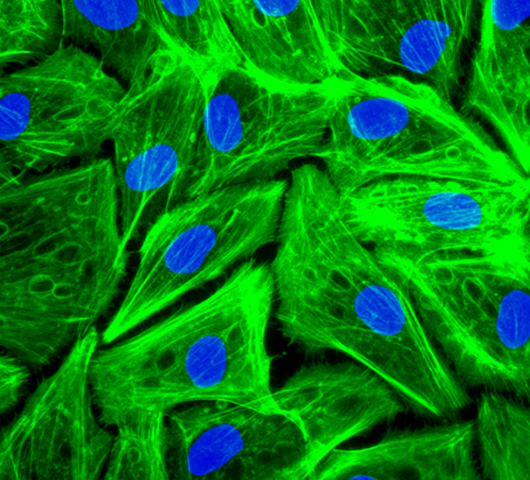 Phalloidin and DAPI staining of human pigmented epithelial cells (ARPE cells).

Scientific Leaders of the project: Javier García, José Luis Pedraz, Simó Schwartz & Ramón Mangues.
Coordinator of the project: Ibane Abasolo & Javier García
Industrial problem/gap covered
One of the causes that increase the time to market of nanotherapeuticsis its preclinical validation. The standard protocols for more traditional drugs are not applicable for nanomedicines. NANBIOSISoffers a preclinical study plan tailored to meet the demands of each nanomedicine product, developed in collaboration with the user and starting from a set of basic analytical tests to more sophisticated experiments.
Description
We offer a complete In vitro Characterization. e.g., immunology, cytotoxicity, hematology, oxidative stress, etc, and more adapted to the different products by using the most sophisticated equipment and taking advantage of the expertise of scientist internationally recognized in the matter.
Some examples are described in the following publications:

Sodiumcolistimethate loaded lipid nanocarriers for the treatment of Pseudomonas aeruginosa infections associated with cystic fibrosis. M. Pastor. M. Moreno-Sastre, A. Esquisabel, E. Sans, M. Viñas, D.lBachiller, V. J. Asensio, Á. Del Pozo, E. Gainza, J. L. Pedraz. Int. J. of Pharm. 477 (2014) 485-494.

Intrapericardial Delivery of Cardiosphere-Derived Cells: An Immunological Study in a Clinically Relevant Large Animal Model. Blázquez R, Sánchez-Margallo FM, Crisóstomo V, Báez C, Maestre J, Álvarez V, Casado JG. PLoS One. 2016 Feb 11;11(2):e0149001. doi: 10.1371/journal.pone.0149001. eCollection 2016.

Immunomodulatory Potential of Human Adipose Mesenchymal Stem Cells Derived Exosomes on in vitro Stimulated T Cells. Blazquez R, Sanchez-Margallo FM, de la Rosa O, Dalemans W, Alvarez V, Tarazona R, Casado JG. Front Immunol. 2014 Nov 4;5:556. doi: 10.3389/fimmu.2014.00556. eCollection 2014.

Services involved:
Sterility
Gel-Clot LAL Assay
U20
Detection of Microbial Contamination
U20
Detection of Bacterial Contamination
U20
Detection of Mycoplasma Contamination
U20
Immunology
Analysis of Hemolytic Properties of Nanoparticles
U20
Analysis of Platelet Aggregation by Cell Counting
U20
Analysis of Platelet Aggregation by Light Transmission Aggregometry
U20
Analysis of Nanoparticle Interaction with Plasma Proteins by 2D PAGE
U20
Leukocyte Pro life ration Assay
U14
Detection of Nitric Oxide Production by RAW 264. 7 MacrophageCell Line
U18
ChemotaxisAssay
U18
PhagocytosisAssay
U18
Analysis of Cytokines, Chemokines and Interferons (by Elisa or Multiplex) IL-8, IL-1b, TNF-α, IFN- ϒ and many others
U14
Determination of cytokine concentration by flow cytometry
U14
Measurement of Nanoparticle Effects on Cytotoxic Activity of NK Cells by Label-Free RT-CES System
U14 (consult)
In vitro Induction of Leukocyte Procoagulant Activity by Nanoparticles
U20 (consult)
Oxidative Stress
Hep G2 Hepatocyte Glutathione Assay
U20
Hep G2 Hepatocyte Lipid Peroxidation Assay
U20 (consult)
HepatocytePrimary ROS Assay
U20 (consult)
Cytotoxicity (necrosis)
Cytotoxicity (necrosis) Assay (MTT and LDH Release): LLC-PK1 Kidney, Hep G2 Hepatocarcinoma, etc
U10, U18 & U20
Cytotoxicity (apoptosis)
Cytotoxicity (apoptosis) (Caspase 3 Activation) LLC-PK1 Kidney; Hep G2 Hepatocarcinoma ; etc
U10 U18
Cytotoxicity (apoptosis) (Caspase 3/7 Activation) Hep G2 Hepatocarcinoma ; etc
U10 & U18
Autophagy
Autophagic Dysfunction Assay: Qualitative Analysis of MAP LC3I to LC3-II Conversion by Western Blot
U18
Autophagic Dysfunction in LLC-PK1 Cells
U18
Immunology
Lymphocyte proliferation
U14
Detection of Antibodies (anti PEG and others)
U2
Cell uptake
By cytometry
U14, U18 & 20
By Confocal Microscopy
U2
Of metallic NPs/Fe-staining
U20
Optical Analysis: HR Dark-Field optical microscope with spectral analysis(Nano-scale Optical Microscope)
U12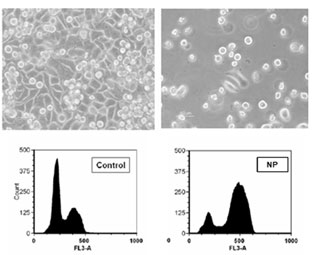 Effect of NP son cell viability and distribution in the cell cycle.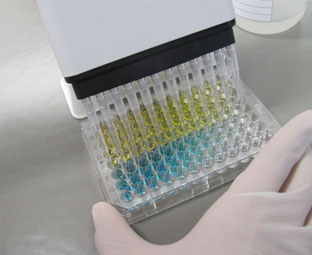 Elisa plate.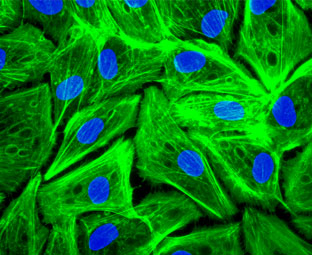 Phalloidin and DAPI staining of human pigmented epithelial cells (ARPE cells).