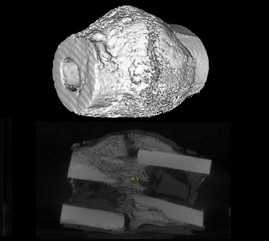 U13. Tissue & Scaffold Characterization Unit
Scientific Director: Prof. Miguel Angel Martínez miguelam@unizar.es
Scientific Coordinator: Fany Peña fany@uniza.es
Entities: Universidad de Zaragoza. Departamento de Ingeniería Mecánica.
Address: Campus Río Ebro. Edificio I D I. C/ María de Luna, S/N, 50018 Zaragoza, Spain
Phone: 34 976 761 000 ext 5233 / 34 976 761 912
Web: I3A-UZ

Order request
Description
This platform is coordinated by Dr. E. Peña member of the Applied Mechanics and Bioengineering Group of the Aragón Institute of Engineering Research (I3A) at the University of Zaragoza. The objective of this unit is to provide services for structural and physical characterization of biological tissues and tissue scaffolding, including microstructure, histology and mechanical tests among others. This platform, unique in Spain as regarding its capability, has a clear and direct translational impact, especially in regenerative medicine, implant design and evaluation, as well as in the study of the mechanical behavior of living tissues (especially in the musculoskeletal and cardiovascular systems). Its relationship with the Instituto Aragonés de Ciencias de la Salud (Health Sciences Institute of Aragon), and through it with the Tissue and Blood Bank of Aragon and with the School of Veterinary Science at the Universidad de Zaragoza, allows an easy provision of tissues both from animals (mice, rabbit, sheep, pig) and humans, following in their handling the recommendations of the different ethics committees.

It has several types of INSTRON testing machines specializedin biological tissues, for the characterizationof soft tissues and fibers, as well as an X-ray microCT which allows quantitatively characterizing the microstructure of in vitro samples of hard tissues and of biomaterials for scaffolds. It also has the entire system necessary for performing high-quality histologies which would complete the structural characterization of the previously cited types of tissues (staining of preparations, immunohistochemistry in paraffin with EnVision, laser microdissection, etc.). As additional tests, equipment for determining the permeability of biological tissues and scaffolds under culture conditions, monitoring their variation over time is also available. Finally, the platform is also composed of different types of bioreactors, including perfusion or direct compression on seeded scaffolds for stimulating cell cultures for tissue engineering applications.
Services
FOR THOSE SERVICES IDENTIFIED AS OUTSTANDING, AT LEAST 20% OF THEIR CAPACITY IS OPEN UNDER COMPETITIVE ACCESS. SEE ANNEX 1 OF ACCESS PROTOCOL FOR DETAILS ON % OF OPENNESS FOR EACH SERVICE

U13. Services & Rates
Active projects
| | | Title | Fundin: Organism | Call: Funding source | Role |
| --- | --- | --- | --- | --- | --- |
| SAF2017-90810-REDI | | Strategic Promotion and coordinated management of Nanbiosis: Pronanbiosis II | Agencia Estatal de Investigación (AEI) | Acciones de dinamización «REDES DE EXCELENCIA» -ICTS 2017 | Partner |
| PICCOLO-732111 | | Multimodal highly-sensitive PhotonICs endoscope for improve in vivo COLOn Cancer diagnosis and clinical decision support | European Commission-H2020 | H2020-ICT-2016-1 | Partner |
| 0624_2IQBIONEURO_6_E | | Promotion of an R&I network in biological chemistry for the diagnosis and treatment of neurological diseases | European Union Interreg : European Territorial Co-operation | POCTEP Interreg España-Portugal | Partner |
Other projects
| Ref | Title | Funding Organism | Unit Role |
| --- | --- | --- | --- |
| DPI2014-54981-R | CORNEAL TISSUE RESPONSE TO CROSS-LINKING TREATMENT. APPLICATION TO THE TREATMENT OF KERATOCONO | MINISTERIO DE ECONOMÍA Y COMPETITIVIDAD | Participant |
| DPI2013-44391-PReferencia | DESIGN AND IMPROVEMENT OF DRUG-CAUSED INTRAVASCULAR DEVICES THROUGH A COMPUTATIONAL TOOL. APPLICATION TO THE DESIGN OF STENT AND BALLS IN STENOTIC INJURIES | MINECO. MINISTERIO DE ECONOMIA Y COMPETITIVIDAD | Participant |
| DPI2013-44987-R | SMART_FOOT: SUPPORT SYSTEM FOR PREOPERATIVE PLANNING OF FOOT SURGERY AND INTELLIGENT DESIGN OF PERSONALIZED PLANTING PROSTHESES. | MINECO. MINISTERIO DE ECONOMIA Y COMPETITIVIDAD | Participant |
| DPI2016-76630-C2-1-R | IN SILICON-IN VITRO ANALYSIS TOOL OF THE APPEARANCE PROCESS AND GROWTH OF ATEROMA PLATE | MINISTERIO DE ECONOMIA, INDUSTRIA Y COMPETITIVIDAD | Others |
Publications
2016
Chaure J., Serrano C., Fernandez-Parra R., Pena E., Lostale F., Gregorio M.A.D. et al. On Studying the Interaction Between Different Stent Models and Rabbit Tracheal Tissue: Numerical, Endoscopic and Histological Comparison. Annals of Biomedical Engineering. 2016;:1-14.
Cilla M., Perez M.M., Pena E., Martinez M.A.. Effect of Diet and Age on Arterial Stiffening Due to Atherosclerosis in ApoE−/− Mice. Annals of Biomedical Engineering. 2016;44(7):2202-2217.
Grasa J., Sierra M., Lauzeral N., Munoz M.J., Miana-Mena F.J., Calvo B.. Active behavior of abdominal wall muscles: Experimental results and numerical model formulation. Journal of the Mechanical Behavior of Biomedical Materials. 2016;61:444-454.
Ruiz-Alejos D., Pena J.A., Perez M.M., Pena E.. Experiments and Constitutive Model for Deep and Superficial Fascia. Digital Image Correlation and Finite Element Validation. Strain. 2016;52(5):436-445.
Calvo B., Pascual G., Pena E., Perez-Kholer B., Rodriguez M., Bellon J.M.. Biomechanical and morphological study of a new elastic mesh (Ciberlastic) to repair abdominal wall defects. Journal of the Mechanical Behavior of Biomedical Materials. 2016;59:366-378.
Cordero A., Hernandez-Gascon B., Pascual G., Bellon J.M., Calvo B., Pena E.. Biaxial Mechanical Evaluation of Absorbable and Nonabsorbable Synthetic Surgical Meshes Used for Hernia Repair: Physiological Loads Modify Anisotropy Response. Annals of Biomedical Engineering. 2016;:1-8.