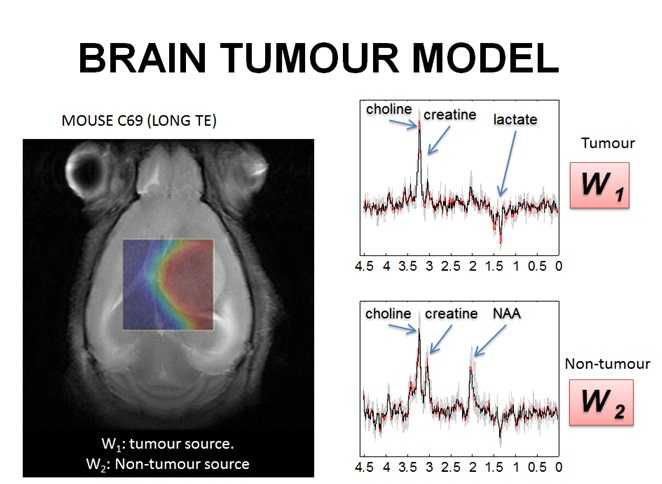 U25. NMR: Biomedical Applications I
Scientific Director: Prof. Carles Arús Carles.Arus@uab.es
Scientific Coordinator: Ana Paula Candiota AnaPaula.Candiota@uab.cat
Entities: Servicio de Resonancia Magnética Nuclear (SeRMN) & Institut de Biotecnología i Biomedicina (IBB) & Universidad Autónoma de Barcelona (UAB)
Address: Facultad de Ciencias, Edificio C, 08193, Cerdanyola del Vallés, Barcelona, Spain
Phone: +34 935 814 126
Web: GABRMN-UAB seRMN-UAB
Order request
Description
The platform is divided between the Servei de Ressonància Magnètica Nuclear (Nuclear Magnetic Resonance Facility) (SeRMN) (http://sermn.uab.cat/) and the Institut de Biotecnologia i Biomedicina (IBB) for bioinformatics applications of the UAB . This platform is coordinated by Prof. Carles Arús, PI of the Nuclear Magnetic Resonance Biomedical Applications Group (GABRMN) (http://gabrmn.uab.es/), with a recognized research track record in the use of NMR as a tool for biomedical applications, and more especifically to identify biomarkers of different pathologies. The main objective of the Platform of Biomedical Applications of Nuclear Magnetic Resonance at the Universitat Autònoma de Barcelona (UAB) is the acquisition, processing and/or interpretation of Nuclear Magnetic Resonance data.

The platform is equipped with 10 spectrometers operating at magnetic fields between 5.8 and 14.1 Teslas (T), including a MRI scanner, Bruker BioSpec, equipped with a 7T horizontal magnet for preclinical trials.

The unit also hosts a computational platform at the IBB, with a total storage capacity of 12TB, which is accessible through the UAB network. The computational platform also hosts two multicentre databases (INTERPRET and eTUMOUR), with NMR and clinical data for more than 1000 human brain tumour patients.

The uniqueness in this case lies in access, in the same location, equipment for NMR studies in vivo, ex vivo and in vitro, molecular imaging accessories by using polarization as well as fixed metabolomic patterns. This configuration allows to validate results of molecular imaging in vivo with other in vitro facilities.
Services
 

FOR THOSE SERVICES IDENTIFIED AS OUTSTANDING, AT LEAST 20% OF THEIR CAPACITY IS OPEN UNDER COMPETITIVE ACCESS. SEE ANNEX 1 OF ACCESS PROTOCOL FOR DETAILS ON % OF OPENNESS FOR EACH SERVICE

U25. Services & Rates
Equipments
In addition to the indicated equipment, it has:
Active projects
| | | Title | Fundin: Organism | Call: Funding source | Role |
| --- | --- | --- | --- | --- | --- |
| SAF2017-90810-REDI | | Strategic Promotion and coordinated management of Nanbiosis: Pronanbiosis II | Agencia Estatal de Investigación (AEI) | Acciones de dinamización «REDES DE EXCELENCIA» -ICTS 2017 | Partner |
| PICCOLO-732111 | | Multimodal highly-sensitive PhotonICs endoscope for improve in vivo COLOn Cancer diagnosis and clinical decision support | European Commission-H2020 | H2020-ICT-2016-1 | Partner |
| 0624_2IQBIONEURO_6_E | | Promotion of an R&I network in biological chemistry for the diagnosis and treatment of neurological diseases | European Union Interreg : European Territorial Co-operation | POCTEP Interreg España-Portugal | Partner |
Publications
2016

Delgado-Goni T., Ortega-Martorell S., Ciezka M., Olier I., Candiota A.P., Julia-Sape M. et al. MRSI-based molecular imaging of therapy response to temozolomide in preclinical glioblastoma using source analysis. NMR in Biomedicine. 2016;:-.
Cordon-Barris L., Pascual-Guiral S., Yang S., Gimenez-Llort L., Lope-Piedrafita S., Niemeyer C. et al. Mutation of the 3-phosphoinositide-dependent protein kinase 1 (PDK1) substrate-docking site in the developing brain causes microcephaly with abnormal brain morphogenesis independently of akt, leading to impaired cognition and disruptive behaviors. Molecular and Cellular Biology. 2016;36(23):2967-2982.
Ferrer-Font L., Alcaraz E., Plana M., Candiota A.P., Itarte E., Arus C.. Protein Kinase CK2 Content in GL261 Mouse Glioblastoma. Pathology and Oncology Research. 2016;:-.
Ciezka M., Acosta M., Herranz C., Canals J.M., Pumarola M., Candiota A.P. et al. Development of a transplantable glioma tumour model from genetically engineered mice: MRI/MRS/MRSI characterisation. Journal of Neuro-Oncology. 2016;:1-10.