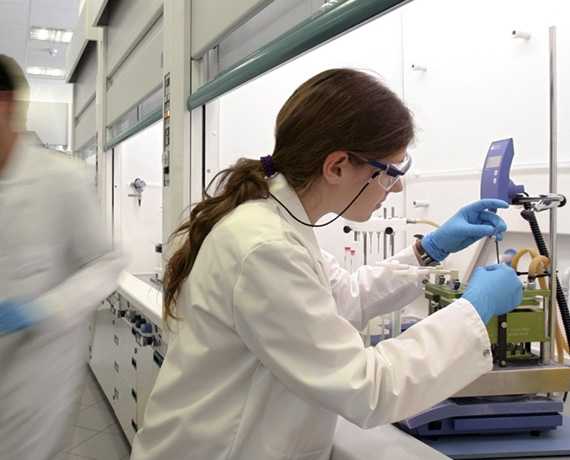 U3. Synthesis of Peptides Unit
Scientific Director: Prof. Fernando Albericio albericio@ub.edu
Scientific Coordinator: Dr. Miriam Royo miriam.royo@iqac.csic.es
Entities: Institute of Avanced Chemistry of Catalonia (IQAC) & Consejo Superior de Investigaciones Científicas (CSIC)
Address: Jordi Girona, 18-26, 088034, Barcelona, Spain
Phone: +34 934 006 100
Web: IQAC- CSIC
This Unit is coordinated by the Multivalent Systems for Nanomedicine goup at IQAC-CSIC and has the equipment necessary to provide services of synthesis of peptides at different scales (mg to g), purification, characterization, and post-synthesis modification, such as, conjugation to proteins and fluorescent. It counts with laboratories for synthesis and other to carry out modification of the peptides during and post synthesis labels. Also counts with a laboratory equipped with several preparative and analytical chromatography systems for purification and characterization. This facility benefits from the wide experience of Dr. Fernando Albericio an Dra. Miriam Royo in the design and synthesis of peptides with specific biological activity and the introduction of modifications necessary for these peptides to be bound to therapeutic nanoconjugates and other molecules, either to take advantage of the pharmacological activity of the peptide itself or to facilitate the introduction of nanoconjugates or other molecules into the cells in order to reach the therapeutic target. Its location allows the access to the rest of services of the IQAC-CSIC.
Services
FOR THOSE SERVICES IDENTIFIED AS OUTSTANDING, AT LEAST 20% OF THEIR CAPACITY IS OPEN UNDER COMPETITIVE ACCESS. SEE ANNEX 1 OF ACCESS PROTOCOL FOR DETAILS ON % OF OPENNESS FOR EACH SERVICE

U3. Services & Rates
Equipments
Active projects
Title
Fundin: Organism
Call: Funding source
Role

ICTS-2017-10-CIBER-2
Acquisition and istallation of infrastrucuture to complemntUnis 3-Synthesis of Peptides, U18-Nanotoxicology y U20-In vivoExperiment
Ministerio de Economía, Industria y Competitividad (MINECO)
Programa Operativo FEDER de Crecimiento Inteligente 2014-2020 (POCInt)
Coordinator
GA: 720942
SMART FUNCTIONAL GLA-NANOFORMULATION FOR FABRY DISEASE – Smart-4-Fabry
Unión Europea (Comisión Europea)
H2020-NMBP-2016-2017
Coordinator
SAF2017-90810-REDI
Strategic Promotion and coordinated management of Nanbiosis: Pronanbiosis II
Agencia Estatal de Investigación (AEI)
Acciones de dinamización «REDES DE EXCELENCIA»
-ICTS 2017
Coordinator
Other projects
| Ref | Title | Funding Organism | Unit Role |
| --- | --- | --- | --- |
| SAF2015-67476-R | Immunochemical Strategies of Diagnosis and Therapy based on Quorum Sensing (ImmunoQS) | Ministerio de Economía y Competitividad | Participant |
| RTC-2014-2207-1 | TERARMET: Development of therapies for the treatment of rare congenital metabolic diseases | MINECO | Participant |
Publications
2016
Cabrera I., Abasolo I., Corchero J.L., Elizondo E., Gil P.R., Moreno E. et al. α-Galactosidase-A Loaded-Nanoliposomes with Enhanced Enzymatic Activity and Intracellular Penetration. Advanced Healthcare Materials. 2016;5(7):829-840.
Giannotti M.I., Abasolo I., Oliva M., Andrade F., Garcia-Aranda N., Melgarejo M. et al. Highly Versatile Polyelectrolyte Complexes for Improving the Enzyme Replacement Therapy of Lysosomal Storage Disorders. ACS Applied Materials and Interfaces. 2016;8(39):25741-25752.