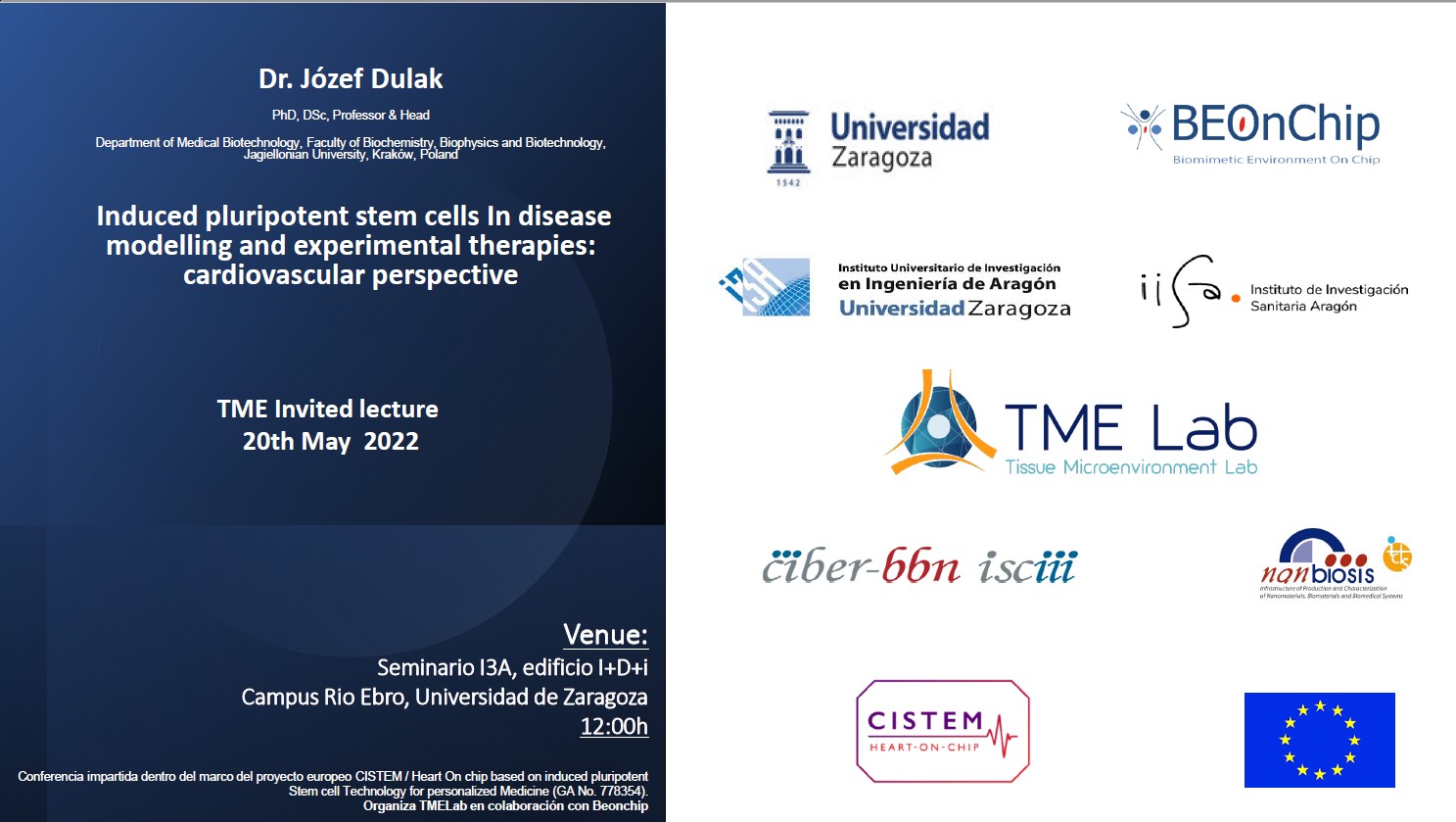 On the 20th of May, we will be receiving an international visit at the Unversity of Zaragoza from Pr. Józef Dulak from Jagiellonian University, Kraków, Poland. The title of the talk will be "Induced pluripotent stem cells in disease modelling and experimental therapies: cardiovascular perspective".
The invited lecture is programed within the framework of the European CISTEM project, in wich the University of Zaragoza participates through CIBER-BBN group TME lab – NANBIOSIS U13 Tissue & Scaffold Characterization Unit.
The event will take place at 12:00 in the I3A SEMINAR (2nd floor) of Campus Rio Ebro, of University of Zaragoza
Induced pluripotent stem cells (iPSC) are generated by genetic reprogramming of somatic cells and thanks to the ability to differentiate into almost all cells types of the organism they offer the enormous possibilities for investigating disease mechanisms, drug sensitivity and safety and for experimental regenerative approaches. iPSC thus became the indispensable tools of current medial biotechnology and received additional input thanks to the development of the CRISPR/Cas9 gene editing.
In this lecture PR. Józef Dulak will review his research in which iPSC and CRISPR/Cas9 gene editing is applyed for investigating the iPSC-differentiation to cardiomyocytes, endothelial cells and other cell types linked with the disease affecting vascular system, heart and the skeletal muscles. The special attention will be on discussing the potential of iPSC for diabetes and Duchenne muscular dystrophy disease modelling.
Application of iPSC-derived cardiomyocytes offer the chance for effective cell therapy of heart failure and this will be addressed in regard to recently published studies.
Sci Rep. 2015 Feb 26;5:8597. doi: 10.1038/srep08597.
Stepniewski J, et al., Dulak J. Heme oxygenase-1 affects generation and spontaneous cardiac differentiation of induced pluripotent stem cells. IUBMB Life. 2018 Feb;70(2):129-142. doi: 10.1002/iub.1711. 2018 Jan 9.
Kachamakova-Trojanowska N, Stepniewski J, Dulak J. Human iPSCs-derived endothelial cells with mutation in HNF1A as a model of maturity-onset diabetes of the young. Cells. 2019 Nov 14;8(11). pii: E1440. doi: 10.3390/cells8111440.
Stępniewski J, et al. Dulak J. Human Induced Pluripotent Stem Cell-Derived Cardiomyocytes, in Contrast to Adipose Tissue-Derived Stromal Cells, Efficiently Improve Heart Function in Murine Model of Myocardial Infarction. Biomedicines. 2020 Dec 7;8(12):578. doi: 10.3390/biomedicines8120578.
Jeż M, et al. Dulak J. Role of Heme-Oxygenase-1 in Biology of Cardiomyocytes Derived from Human Induced Pluripotent Stem Cells. Cells. 2021 Mar 1;10(3):522. doi: 10.3390/cells10030522.
Andrysiak K, Stępniewski J, Dulak J. Human-induced pluripotent stem cell-derived cardiomyocytes, 3D cardiac structures, and heart-on-a-chip as tools for drug research. Pflugers Arch. 2021 Jul;473(7):1061-1085. doi: 10.1007/s00424-021-02536-z. Epub 2021 Feb 24.
Martyniak A, et al, Dulak J. Generation of microRNA-378a-deficient hiPSC as a novel tool to study its role in human cardiomyocytes. J Mol Cell Cardiol. 2021 Jul 28;160:128-141. doi: 10.1016/j.yjmcc.2021.07.007.
Kachamkova-Trojanowska N, Skoczek D, Dulak J, Maturity Onset Diabetes of the Young – new approaches for disease modelling. Int J Mol Sci. 2021 Jul 14;22(14):7553. doi: 10.3390/ijms22147553.
Andrysiak K, et al., Dulak J. Generation of DMBi002-A human induced pluripotent stem cell line from patient with Spinal muscular atrophy type 3. Stem Cell Res. 2021 Oct 13;57:102563. doi: 10.1016/j.scr.2021.102563.
Jelinkova S, Martyniak A, Dulak J, Stępniewski J. Derivation of human pluripotent stem cell line via CRISPR/Cas9 mediated deletion of exon 3 LAMA2 gene (DMBi001-A-1) Stem Cell Res. 2021 Sep 2;56:102529. doi: 10.1016/j.scr.2021.102529