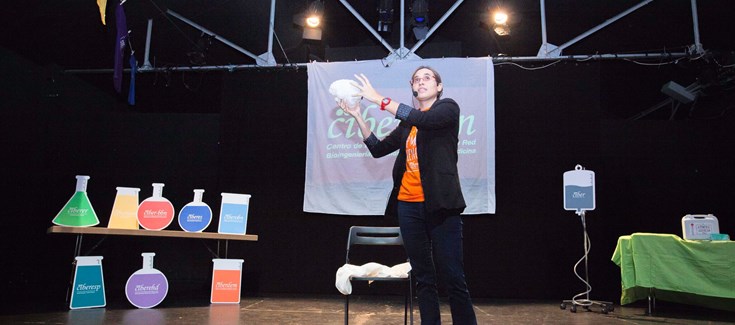 Elisabet Prats, researcer of the GBIO Group, coordinator of Unit 8 of NANBIOSIS, participated in the  #ImproCiencia dissemination event, held on November 16 in Madrid organized by CIBER. Elisabet presented the Neurographene project as a monologue and explained how they are using graphene for Measure the electrical activity of the brain.
Based on the latest microfabrication technologies, the devices consist of graphene microsensor matrices mounted on flexible polymer substrates that adapt to the surface morphology of the brain.
Each sensor detects tiny changes in the electrical activity around it. Thus, the electrical activity generated by the neurons is detected as a small change in the conductivity of the graphene sensor. These devices are already being used in the study of sleep and epilepsy in animal models. The graphene sensor implanted on the brain surface allows the simultaneous recording of electrical activity in different regions of the cortex.
Also, the technology of flexible graphene sensors can be used in other biomedical applications in which it is necessary to obtain relevant information from the cerebral cortex. "Graphene will revolutionize the world," said Elisabet Prats.