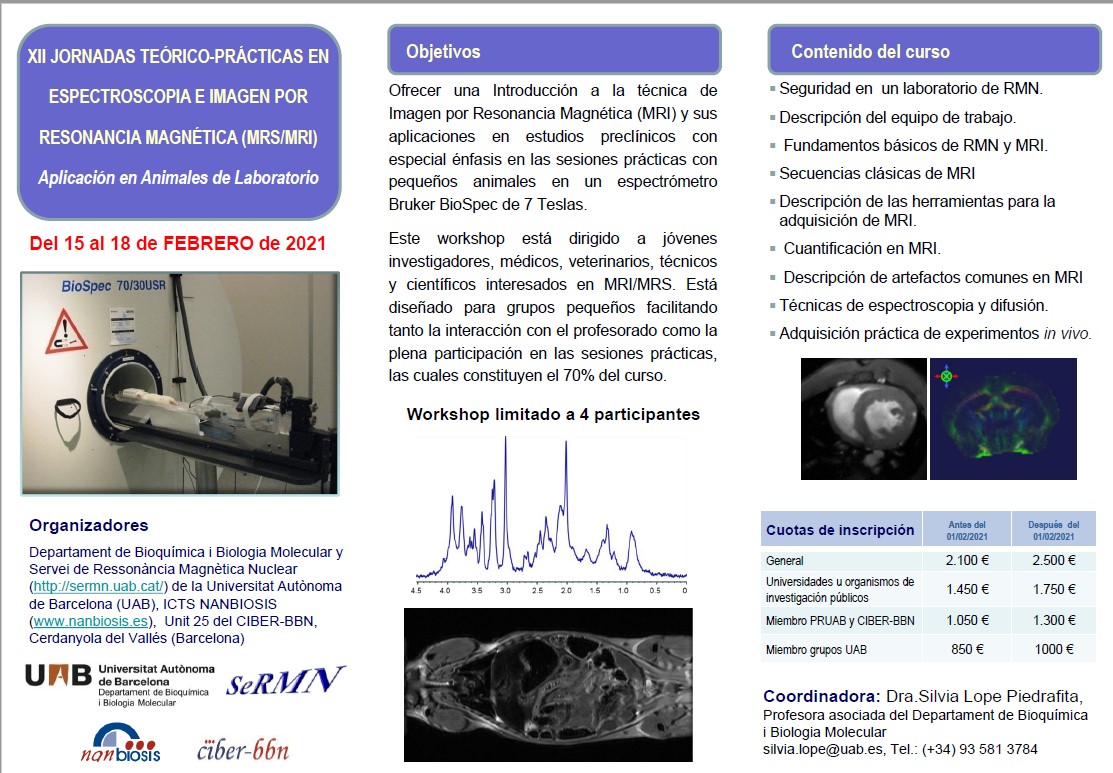 We are glad to inform that registration is now open for the 12th Workshop on Magnetic Resonance Spectroscopy and Imaging (MRI/MRS) Applied to Laboratory Animals, organized by the Biochemistry and Molecular Biology Department (UAB) and the Nuclear Magnetic Resonance Facility, which is also part of the NANBIOSIS ICTS U25 NMR: Biomedical Applications I. Workshop will take place February 15-18th, 2021.
This course combines a comprehensive series of lectures on the technology of Magnetic resonance spectroscopy and imaging (MRS/MRI) with hands-on laboratory sessions to provide practical demonstrations of key concepts and procedures for preclinical studies.
Whether you are considering MRI as a research tool in your lab or just would like to learn more about MRI, this workshop addresses practical aspects of experimental MRI with laboratory animals and provide valuable hands-on experience on a 7 Tesla Bruker BioSpec spectrometer.

Online registration:
(http://sermn.uab.cat/wiki/doku.php?id=formulari_curs_mri_mrs)

For more detailed information, please go to:
http://sermn.uab.cat/2021/01/12th-workshop-mrs-mri-small-animals/

Please note that a limited number of attendants is currently allowed (maximum 4). Anticipated reservation is strongly recommended.
See the workshop brochure