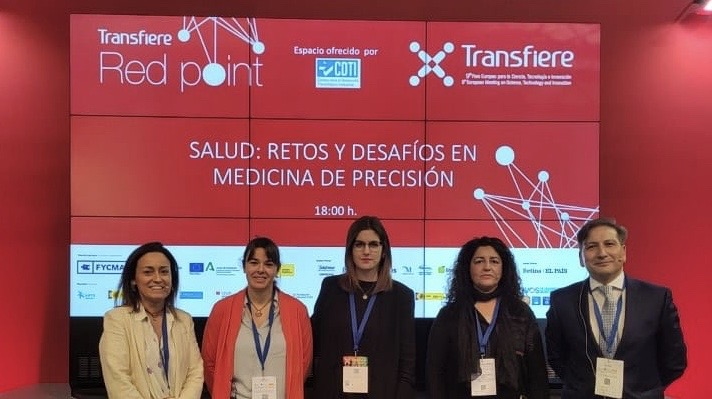 Transfiere, the European Forum for Science, Technology and Innovation, the bigest professional and multisectoral forum for the transfer of knowledge and technology held in Spain, took place last February 12 and 13 in Malaga in its 9th edition.
Among the events held at Transfiere, there has been a round table organized by all health-related platforms under the title: Challenges in precision medicine on the 12th at 6pm.
Maria Luisa García Martín, Scientific Director of NANBIOSIS U28 of Nanoimaging Unit and head of Nano-Imagen facilities at BIONAND, was invited by the Nanomedicine platform, NanomedSpain as a speaker at the aforementioned round table to discuss metabolomics and cancer. The rest of the participants were:
• Amelia Martín Uranga. Responsible for the Innovative Medicines Platform (Pharmaindustry) – Data protection in precision medicine.
• Beatriz Palomo. Coordinator of Biotechnology Markets Platform Responsible for projects and the ASEBIO Health Area
• Patricia Fernández. Coordinator of the Vet + i-Spanish Technology Platform for Animal Health Foundation
• Antonio Riobás. Medical Director and Health Advisor at Biocrew – Aspects of meso and micro-management in relation to the incorporation of Precision Medicine. Spain and its challenges.
Among subjects discussed, ethical aspects, data protection, limitations and challenges to overcome, the role of patients and clinicians, as well as the role of new technologies, such as metabolomics, in precision medicine, Maria Luisa García shared her experience about the role of magnetic resonance metabolomics in the precision medicine of the futue, focused on tumor diagnosis.