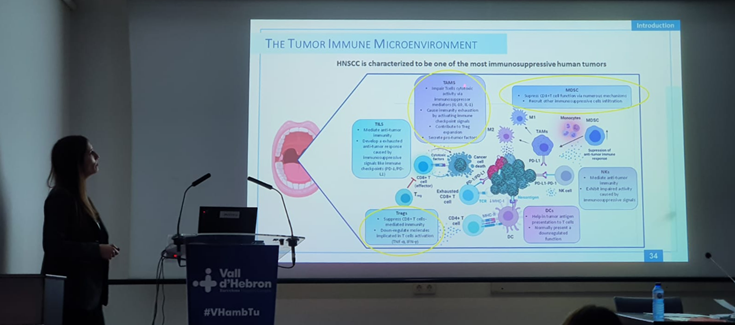 Patricia González, researcher of the "Drug Delivery and Targeting" of CIBER-BBN and VHIR, presented her thesis work on November 19 where she lays the foundations to understand the role of different subpopulations of extracellular vesicles (VEs) secreted by tumor models in the regulation of tumor plasticity, as well as its effect on the tumor microenvironment and disease progression.
In the project, it has been described for the first time how the VEs secreted by the cancer stem cell subpopulation are responsible for activating fibroblasts in the tumor microenvironment and promoting angiogenesis, thus facilitating disease progression. Furthermore, it has been possible to discern the role of these vesicles in the regulation of cell plasticity. In this sense, the VEs from tumor stem cells would act as effectors of cell differentiation in contrast to the action of the VEs secreted by differentiated cancer cells, which would stimulate the acquisition of stem cell characteristics.
In order to carry out the in vivo experiments, the services of ICTS Nanbiosis were used, through the U20.
The results open a new line of research in the group with a long journey ahead, setting as main objectives the identification of the molecular actors responsible for the activities described above as well as the translation of said knowledge into specific therapeutic strategies.