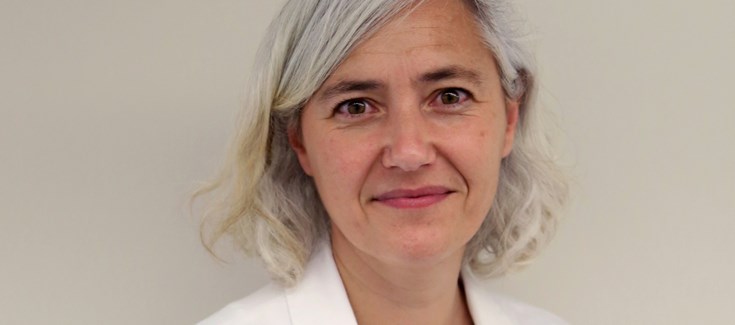 Ibane Abasolo, the Scientific Coordinator of NANBIOSIS U20 of the CIBER-BBN at the Vall d'Hebron Research Institute (VHIR), has been appointed new Scientific Director, replacing Simó Schwartz, who has recently assumed the Directorate of the Blood and Tissue Bank of Catalonia. With her, there are 11 women who are Scientific Directors of NANBIOSIS units (46%), with the incorporation of Nora Ventosa and Rosa Villa during the past year 2020. Ibane Abasolo has also been appointed IP of the CIBER group that coordinates unit 20 of NANBIOSIS. The female replacement in the leadership of the CIBER groups is one of the priorities of the consortium and all the recent IP substitutions of the CIBER-BBN have been appointed researchers as group leaders.
Ibane Abasolo obtained degrees in Biochemistry and Biology from the University of Navarra in 1997 and 1998, respectively. During her doctorate in the laboratories of Dr. Alfonso Calvo (CIMA, Pamplona) and Prof. Zhou Wang (Northwestern University, Chicago, USA), she studied the role of a peptide hormone, adrenomedullin, in the prostate cancer. Dr. Abasolo continued her postdoctoral training in the group of Prof. F.X. Real (IMIM, Barcelona), where she focused on the study of key factors on the progression of pancreatic cancer and the development of the cerebellum. During this time, she gained extensive experience in experimental mouse models, including all steps from the generation of new transgenic models, to the molecular and cellular characterization of existing ones. Later, Dr. Abasolo moved to the High Technology Institute (PRBB, Barcelona), where she was trained in molecular imaging techniques such as microPET, SPECT and CT.
Dr. Abasolo has been part of the CIBER-BBN since 2007, when she joined the group led by Dr. Schwartz at the Vall d'Hebron Hospital, where she launched the Functional Validation and Preclinical Research Area (FVPR) of the CIBBIM -Nanomedicine as a technological platform from which industry or academic groups can advance in the preclinical development of its compounds. In fact, FVPR is part of Unit 20 and the Singular Scientific Technical Infrastructure (ICTS) Nanbiosis and is certified with ISO9001: 2015.
As a researcher, Dr. Abasolo currently collaborates in 4 European projects (NoCanTher, EvoNano, Safe-Med-Tech and Mimic-Key) and leads many other national projects, focused on improving the treatment of lysosomal storage disorders (PI18 / 00871 from ISCIII and ExoProd funded by FIPSE) or in the study of the role of tumor stem cells in cancer progression (NanoDireCT, RETOS-Collaboration project). At CIBER-BBN, Dr. Abasolo directly coordinates 3 intramural projects and a recently awarded valorization project (ADVERT).