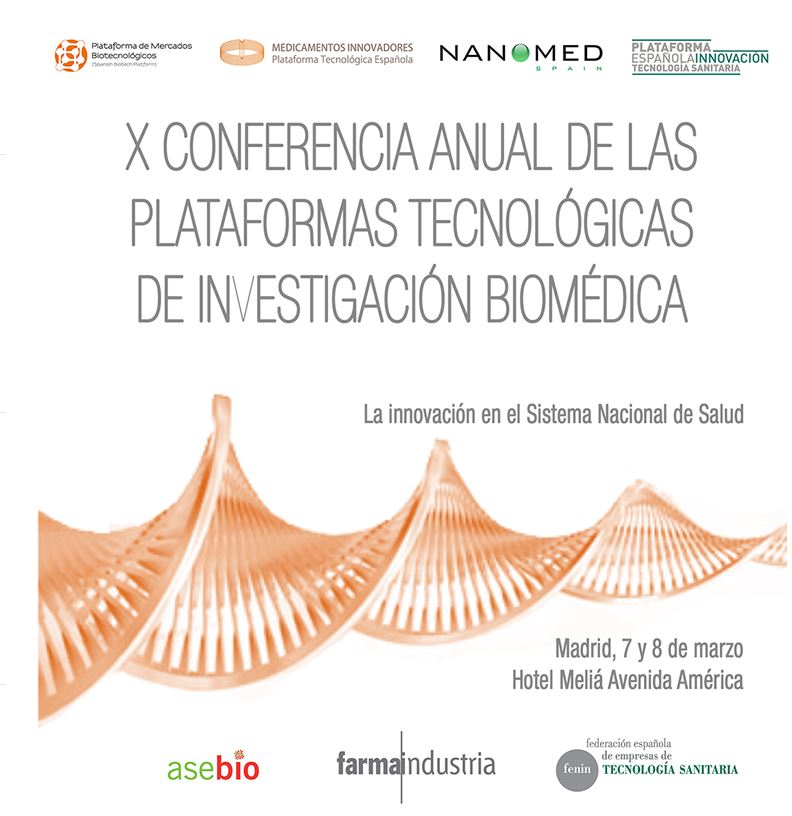 On March 7 and 8, 2017, the "X Conferencia Anual de las Plataformas Tecnológicas de Investigación Biomédica: Medicamentos Innovadores, Nanomedicina, Tecnología Sanitaria y Mercados Biotecnológicos"  will be held in Madrid.  Several aspects of innovation in the National Health System will be addressed, from a national and international perspective of public-private collaboration.
On Wednesday, March 8 at 9:30 am, Jesús Izco, Coordinator of NANBIOSIS, will explain the opportunities offered by  the ICTS NANBIOSIS as a Network of Excellence for Research and  in Biomedicine,  especially in the fields of nanomedicine and biomaterials.
The meeting, which brings together more than 300 scientists and researchers every year, has become a benchmark for biomedical research, as it reveals the latest national and international public-private partnership initiatives in this area.
Registration online at www.medicamentos-innovadores.org
Deadline for registration: March 2 at 5:00 p.m.
During the Conferences there is the possibility of individual advice / guidance by the CDTI on proposals for R&D&I projects at the enterprise level. To do this, it will be necessary to fill in the form available at the following link and send it to the following address: dptosbcrn@cdti.es, indicating in the subject: Asesoramiento de propuestas en X Conferencia de Plataformas de Investigación Biomédicas, to be able to schedule the meetings.