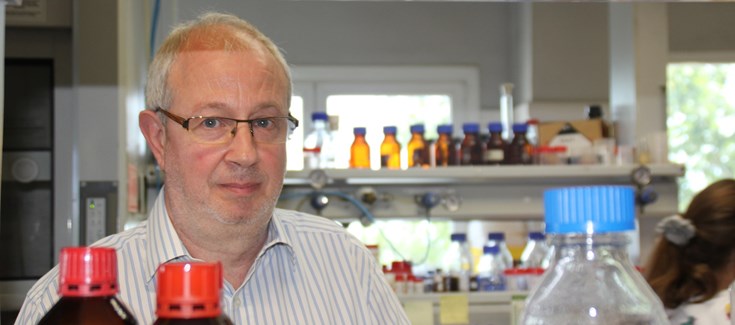 Researchers CIBER-BBN and NANBIOSIS Unit 26, the Príncipe Felipe Research Center (CIPF), the Universitat Politècnica de València (UPV) and the Institut de Recerca Biomèdica (IRB) of Barcelona manage to inhibit tumor growth, reduce metastasis and decrease the toxicity of the antitumor drug Navitoclax in preclinical animal models of triple negative breast cancer (TNBC).
These types of TNBC tumors do not express any of the three receptors involved in most breast cancers (estrogen, progesterone, and HER2), so the most common treatments such as hormone therapy are not viable in these patients.
This new study, led by Mar Orzáez, principal investigator of the CIPF Peptides and Proteins Laboratory and Ramón Martínez Máñez, scientific director of CIBER-BBN, NANBIOSIS Unit 26, member of the CIPF-UPV Joint Unit in Mechanisms of disease and Nanomedicine and researcher at the Interuniversity Institute of Research on Molecular Recognition and Technological Development (IDM) at UPV, shows that a combined treatment of a senescence inducer and a senolytic nanoparticle, selectively removes senescent cells, delays tumor growth and reduces metastasis in a mouse model of aggressive breast cancer.
Until now, the application of senescence inducers represents a successful treatment strategy in patients with breast cancer, although the accumulation of senescent cells in the body can sometimes promote tumor recurrence.
Cell senescence or aging takes place in both physiological and pathological situations. When a cell goes into senescence, it stops dividing and releases substances that cause inflammation.
When an uncontrolled accumulation of these senescent cells occurs, the excess of inflammatory factors can end up damaging healthy cells, thereby contributing to aging, the appearance of pathologies such as diabetes, neurodegenerative diseases or promoting the development of tumors and promoting metastasis.
With this new approach, after the induction of senescence, the cells are eliminated by treatment with a senolytic nanoparticle, and a new therapeutic opportunity opens up to improve the results in patients with breast cancer and a new combined treatment is proposed that may be relevant to other senescence-inducing chemotherapeutic drugs.
The results, published in the Journal of Controlled Release (JCR), offer new therapeutic approaches to advance in later phases and clinical trials and allow different tumor types to be addressed.
Orzáez and Máñez have pointed out that "the induction of senescence in tumors represents an advance in the treatment of cancer, which may be even greater in combination with this type of senolytic treatments that eliminate senescent cells and help reduce metastasis."
Manuel Serrano from the Institut de Recerca Biomèdica (IRB) in Barcelona has also collaborated in the study.
Article of reference:
Irene Galiana, Beatriz Lozano-Torres, Mónica Sancho, María Alfonso, Andrea Bernardos, Viviana Bisbal, Manuel Serrano, Ramón Martínez-Máñez, Mar Orzáez, Preclinical antitumor efficacy of senescence-inducing chemotherapy combined with a nanoSenolytic, Journal of Controlled Release, Volume 323 https://doi.org/10.1016/j.jconrel.2020.04.045
Sourse of information: CIBER-BBN