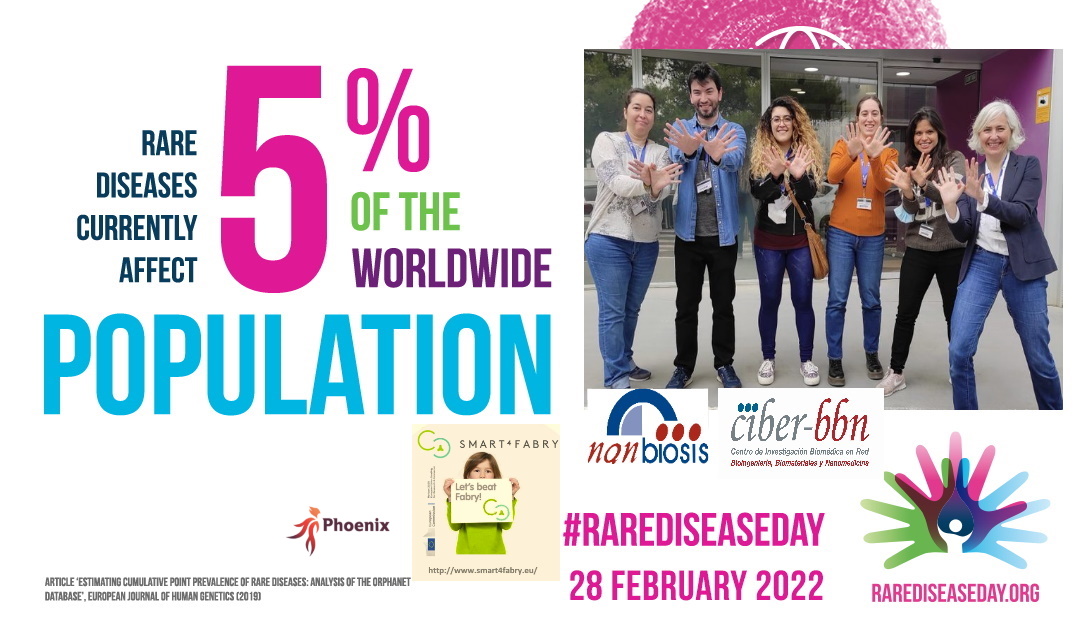 WHY DO CELEBRATE TODAY THE INTERNATIONAL #RareDiseaseDay?
29 of February is a 'rare' date and February, a month with a 'rare' number of days, has become a month to raise awareness about rare diseases and their impact on patients' lives.  Since 2008 thousands of events happen every year all around the world and around the last day of February with the aim of improving equity and reducing stigmatization for people who live with more than 6,000 rare diseases.
WHAT ARE RARE DISEASES
Rare diseases are pathologies or disorders that affect a small part of the population (less than 5 per 10,000 inhabitants) and generally have a genetic component. They are also known as orphan diseases.
Diseases present a series of particular symptoms, and it is very difficult to diagnose what their true cause is. These disorders or alterations that patients present must be evaluated by a specialist, depending on each case.
Today 5% of the world population suffer from them. This translated into numbers, corresponds to approximately 300 million affected.
A patient with a rare disease waits an average of 4 years to obtain a diagnosis, in 20% of cases it takes 10 or more years to achieve the proper diagnosis.
ORPHAN DRUGS
To combat this disease, patients need to be treated with so-called orphan drugs. They serve to prevent and treat pathology. Its composition is based on biotechnological compounds whose manufacture is very expensive and not profitable for companies. For this reason, cooperation of governments is needed as well as financial incentives to encourage pharmaceutical companies to develop and market medicines to make these treatments accessible to a greater number of people.
FABRY DISEASE
Fabry is one of the rare diseases that currently lack a definitive cure. Symptoms may include episodes of pain, especially in the hands and feet (acroparesthesias); small dark red spots on the skin called angiokeratomas; decreased secretion of sweat (hypohidrosis); opacity of the cornea (cataracts) and hearing loss. Internal organs such as the kidney, heart, or brain may be involved, resulting in progressive kidney damage, heart attacks, and strokes.
Fabry disease is a lysosomal storage disease arising from a deficiency of the enzyme α-galactosidase A (GLA). The enzyme deficiency results in an accumulation of glycolipids, which over time, leads to cardiovascular, cerebrovascular, and renal disease, ultimately leading to death in the fourth or fifth decade of life. Currently, lysosomal storage disorders are treated by enzyme replacement therapy (ERT) through the direct administration of the missing enzyme to the patients.
"SMART 4 FABRY" EUROPEAN PROJECT
CIBER-BBN, through the researcher Nora Ventosa has coordinated the european project "Smart-4-Fabry" developed during 2017-2021, the proyect was undertaken by a consortium formed by ten partners, including private companies and public institutions in Europe and Israel, with a Horizon 2020 financial programme by the European Commission (H2020-NMBP-2016-2017; call for nanotechnologies, advanced materials, biotechnology and production; Proposal number: 720942-2).
In view of their advantages as drug delivery systems, liposomes are increasingly being researched and utilized in the pharmaceutical, food and cosmetic industries, but one of the main barriers to market is their scalability.
Depressurization of an Expanded Liquid Organic Solution into aqueous solution (DELOS-susp) is a compressed fluid-based method that allows the reproducible and scalable production of nanovesicular systems with remarkable physicochemical characteristics, in terms of homogeneity, morphology, and particle size. The objective of this work was to optimize and reach a suitable formulation for in vivo preclinical studies by implementing a Quality by Design (QbD) approach, a methodology recommended by the FDA and the EMA to develop robust drug manufacturing and control methods, to the preparation of α-galactosidase-loaded nanoliposomes (nanoGLA) for the treatment of Fabry disease.
Through a risk analysis and a Design of Experiments (DoE), researechers obtained the Design Space in which GLA concentration and lipid concentration were found as critical parameters for achieving a stable nanoformulation. This Design Space allowed the optimization of the process to produce a nanoformulation suitable for in vivo preclinical testing.
The new nanoformulation developed by Smart4Fabry for the treatment of Fabry disease achieved the ODD (Orphan Drug Designation) by the European Commission. The new nanomedicine is more effective and has a better biodistribution than the current treatments, based on enzyme replacement. The new nanomedicine is based on a nanovesicle that protects the enzyme and achieves a better cell internalisation, thus reducing the doses needed, the total cost and improving the quality of patients.
Four units of NANBIOSIS participated in the project:
– U1 Protein Production Platform (PPP) led by Neus Ferrer and Antony Villaverde at IBB-UAB for the production and purification in different expression systems for R&D purposes.
– U3 Synthesis of Peptides Unit led by Miriam Royo at IQAC-CSIC performed all the chemical process of the Smart-4-Fabry project, i.e. design and synthesis of peptides used as targeting ligands in the nanoliposome formulation.
– U6 Biomaterial Processing and Nanostructuring Unit led by Nora Ventosa at ICMAB-CSIC developed tasks related to the manufacture of the nanoliposome formulation of GLA enzyme and the physico-chemical characterization (this unit counts with plants at different scales, from mL to L, which allow process development by QbD and process scale-up, as well as instrumental techniques for assessment of particle size distribution, particle concentration, particle morphology and stability, and Z-potential) .
– U20 In Vivo Experimental Platform led by Ibane Abásolo at VHIR carried out the non-GLP preclinical assays of the project (in vivo efficacy, biodistribution and tolerance/toxicity assays).
PHOENIX: OPEN INNOVATION TEST BED
Researchers of CIBER-BBN and NANBIOSIS, led by Nora Ventosa, are currently participating in another european project, PHOENIX "Enabling Nano-pharmaceutical Innovative Products" in the framework of which this novel nanomedicine developed under the Smar4Fabry project and designed as Orphan Drug by the EMA, will be scaled-up and manufactured under GMP to enable its clinical testing.
Articles of reference:
Josep Merlo-Mas, Judit Tomsen-Melero, José-Luis Corchero, Elisabet González-Mira, Albert Font, Jannik N. Pedersen, Natalia García-Aranda, Edgar Cristóbal-Lecina, Marta Alcaina-Hernando, Rosa Mendoza, Elena Garcia-Fruitós, Teresa Lizarraga, Susanne Resch, Christa Schimpel, Andreas Falk, Daniel Pulido, Miriam Royo, Simó Schwartz, Ibane Abasolo, Jan Skov Pedersen, Dganit Danino, Andreu Soldevila, Jaume Veciana, Santi Sala, Nora Ventosa, Alba Córdoba, "Application of Quality by Design to the robust preparation of a liposomal GLA formulation by DELOS-susp method", The Journal of Supercritical Fluids, Volume 173, 2021, 105204, https://doi.org/10.1016/j.supflu.2021.105204.
Judit Tomsen-Melero, Solène Passemard, Natalia García-Aranda, Zamira Vanessa Díaz-Riascos, Ramon González-Rioja, Jannik Nedergaard Pedersen, Jeppe Lyngsø, Josep Merlo-Mas, Edgar Cristóbal-Lecina, José Luis Corchero, Daniel Pulido, Patricia Cámara-Sánchez, Irina Portnaya, Inbal Ionita, Simó Schwartz, Jaume Veciana, Santi Sala, Miriam Royo, Alba Córdoba, Dganit Danino, Jan Skov Pedersen, Elisabet González-Mira, Ibane Abasolo, and Nora Ventosa. Impact of Chemical Composition on the Nanostructure and Biological Activity of α-Galactosidase-Loaded Nanovesicles for Fabry Disease Treatment, ACS Appl. Mater. Interfaces 2021, 13, 7, 7825–7838 ( https://doi.org/10.1021/acsami.0c16871).