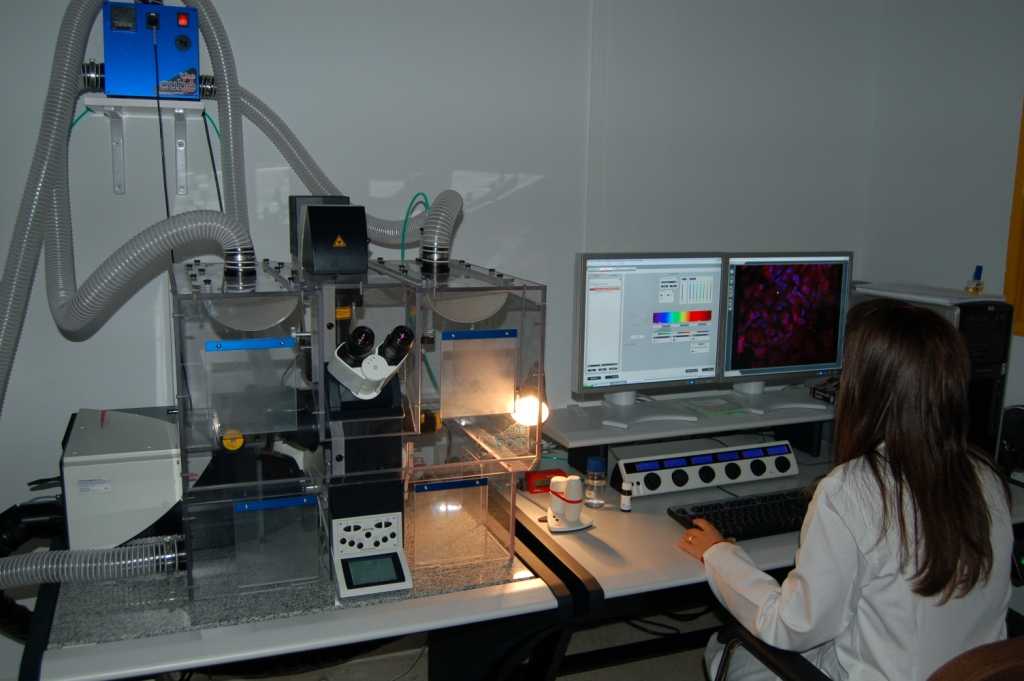 U17. Confocal Microscopy Service
Scientific Director: Prof. Juan Manuel Bellón juanm.bellon@uah.es
Scientific Coordinator: Dr. Gemma Pascual gemma.pascual@uah.es
Technical Coordinator: Mª Isabel Trabado unidad.cultivos@uah.es
Entities: Cell Culture Unit. Modulo IV, Planta Baja. Facultad de Medicina Universidad de Alcalá (UAH)
Address: Ctra. Madrid-Barcelona, km. 33,6, 28871, Alcalá de Henares, Madrid, Spain
Phone: +34 918 854 535
Web: WEB
Order request
Description
Located in the Cell Culture Unit, Faculty of Medicine, University of Alcalá, has a room perfectly suited to host a Confocal Microscope service that provides 4 lasers and cell incubation cabin. This Unit is coordinated by Dr. Juan Manuel Bellón, PI of the Translational Research and Tissue Engineering Group at the University of Alcalá.
Services
FOR THOSE SERVICES IDENTIFIED AS OUTSTANDING, AT LEAST 20% OF THEIR CAPACITY IS OPEN UNDER COMPETITIVE ACCESS. SEE ANNEX 1 OF ACCESS PROTOCOL FOR DETAILS ON % OF OPENNESS FOR EACH SERVICE

U17. Services & Rates
Equipments
Active projects
| | | Title | Fundin: Organism | Call: Funding source | Role |
| --- | --- | --- | --- | --- | --- |
| SAF2017-90810-REDI | | Strategic Promotion and coordinated management of Nanbiosis: Pronanbiosis II | Agencia Estatal de Investigación (AEI) | Acciones de dinamización «REDES DE EXCELENCIA» -ICTS 2017 | Partner |
| PICCOLO-732111 | | Multimodal highly-sensitive PhotonICs endoscope for improve in vivo COLOn Cancer diagnosis and clinical decision support | European Commission-H2020 | H2020-ICT-2016-1 | Partner |
| 0624_2IQBIONEURO_6_E | | Promotion of an R&I network in biological chemistry for the diagnosis and treatment of neurological diseases | European Union Interreg : European Territorial Co-operation | POCTEP Interreg España-Portugal | Partner |
Publications
2016
Pascual G., Sotomayor S., Adel F., Perez-Kohler B., Rodriguez M., Cifuentes A. et al. Remodeling of Noncrosslinked Acellular Dermal Matrices in a Rabbit Model of Ventral Hernia Repair. European Surgical Research. 2016;:32-48.
Calvo B., Pascual G., Pena E., Perez-Kholer B., Rodriguez M., Bellon J.M.. Biomechanical and morphological study of a new elastic mesh (Ciberlastic) to repair abdominal wall defects. Journal of the Mechanical Behavior of Biomedical Materials. 2016;59:366-378.
Cordero A., Hernandez-Gascon B., Pascual G., Bellon J.M., Calvo B., Pena E.. Biaxial Mechanical Evaluation of Absorbable and Nonabsorbable Synthetic Surgical Meshes Used for Hernia Repair: Physiological Loads Modify Anisotropy Response. Annals of Biomedical Engineering. 2016;:1-8.