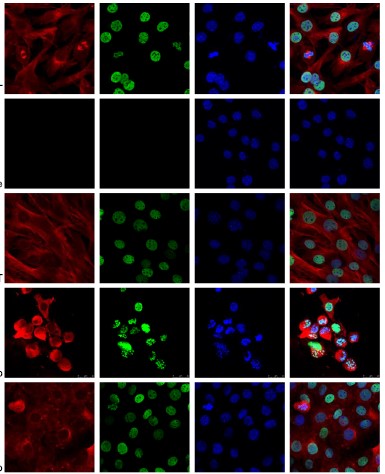 Elena Alcalde‑Estévez, Patricia Sosa, Ana Asenjo‑Bueno, Patricia Plaza, Gemma Olmos, Manuel Naves‑Díaz, Diego Rodríguez‑Puyol, Susana López‑Ongil & María P. Ruiz‑Torres, are the authors of an article recently published in the Journal Scientific Reports, of Nature Research, ·mentioning the collaboration in the investigation of the ICTS "NANBIOSIS" U17 Confocal Microscopy Service of CIBER-BNN and the University of Alcalá.
Uremic toxins (UT) increase in the serum in parallel with a decrease in the glomerular filtration rate and the development of sarcopenia in patients with chronic kidney disease (CKD).
This study analyses the role of UTs in sarcopenia associated with CKD in different stages of the disease.
Immunofluorescence and senescence assays were visualised using a Leica SP5 confocal microscope (Leica Microsystems, Wetzlar, Germany), through the Unit 17 Confocal Microscopy Service of the ICTS 'NANBIOSIS')
Through confocal microscopy studies in C2C12 cells (myoblasts), the role of high concentrations of UT in different mechanisms involved in the biology of skeletal muscle cells was observed. It was observed that they did not induce senescence (associated with beta-galactatosidase activity), but they did decrease the proliferative capacity of myoblasts, preventing the cells from entering the mitosis phase in a step prior to the condensation of chromosomes. Also, through confocal microscopy studies, it was determined that low concentrations of UT hindered myogenic differentiation of myoblasts in culture and promoted the expression of fibrosis markers" – explains Isabel Trabado, Technical Coordinator of NANBIOSIS U17
Article of reference: Alcalde-Estévez, E., Sosa, P., Asenjo-Bueno, A. et al. Uraemic toxins impair skeletal muscle regeneration by inhibiting myoblast proliferation, reducing myogenic differentiation, and promoting muscular fibrosis. Sci Rep 11, 512 (2021). [DOI]