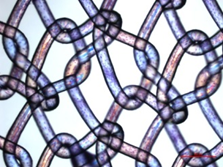 JUMISC carried out an in vitro and in vivo study focused in the use of MSCs -coated surgical meshes to counteract the inflammatory response commonly observed after implantation.
Surgical meshes are medical devices traditionally used to solve hernias and prolapsed organs pathologies that may cause inflammation and foreign body reactions, causing pain and discomfort to the patient.
According to this, the JUMISC financed a R&D project to evaluate if MSCs may provide an anti-inflammatory environment after surgical implantation.
Magnetic resonance imaging, laparoscopic evaluation and histological studies were performed to evaluate safety aspects and its future clinical application as a bioactive material. The in vivo results demonstrated that they fulfill safety aspects and non-adverse effects.
The results have been published in Acta Biomaterialia, the second best journal in its area, whose authors are Rebeca Blázquez, Francisco Miguel Sánchez-Margallo, Verónica Álvarez, Alejandra Usón y Javier G. Casado. Moreover, according to the philosophy of JUMISC to promote the innovation and the quality of the patient life, from these results emerged an invention which is protected as a patent.
Finally, this project will continue and future experiments will be developed in a clinically relevant animal model for the extrapolation of the results to a clinical scenario.

Images of the MSC-s coated surgical meshes obtained by microscopy