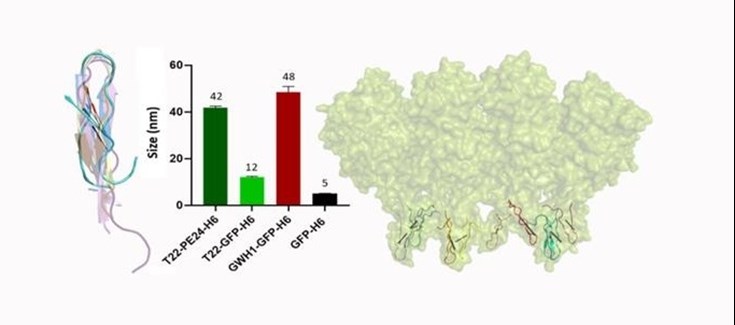 Researchers of NANBIOSIS Units 1 and 18, from CIBER-BBN at the Institut de Biotecnologia i de Biomedicina (IBB-UAB) and the Institut de Recerca Sant Pau (IIB-Sant Pau) presents the finding of a significant antimicrobial activity in the targeting peptide T22, which is used for antitumor therapy directed against CXCR4 + stem cells, with clinical interest in more than 20 types of human cancer, including colorectal cancer.
The study describes how said activity has a significant effect on several bacterial species of clinical importance: "we have detected antimicrobial activity associated with T22 and inhibition of biofilm formation on Escherichia coli, Staphylococcus aureus and Pseudomonas aeruginosa, explains Antonio Villaverde, one of the coordiantors of the study . The researcher adds that "the T22 peptide does not show cytotoxicity on mammalian cells or hemolytic activity and is active when it is shown in protein nanoparticles through genetic fusion."
For the develiopment of this research protein production was partially performed by the unit 1 of the ICTS NANBIOSIS, Protein Production Platform (PPP).
In short, the discovery of T22 as AMP is of interest, not only because of its addition to the catalog of antibacterial drugs, but its clinical uses could allow its combined and multivalent application in complex clinical conditions, such as colorectal cancer, which could benefit from the synchronous destruction of cancer stem cells and local bacterial biofilms.
The stable collaboration between the NBT group led by Esther Vazquez and Antonio Villaverde, the GOA group led by Ramón Mangues and the spin-off of the UAB Nanoligent, develops systemic targeted therapies using T22 to functionalize different types of cytotoxic nanoparticles, with which the destruction of metastatic stem cells and the consequent reduction in the number of metastases. "The dual activity of T22 as a targeting agent and as an antimicrobial drug may offer a new local treatment route, through which bacterial infections related to the development and progression of tumors are controlled locally," the authors conclude.
Article of reference:
Naroa Serna, José V. Carratalá, Oscar Conchillo-Solé, Carlos Martínez-Torró, Ugutz Unzueta, Ramón Mangues, Neus Ferrer-Miralles, Xavier Daura, Esther Vázquez, and Antonio Villaverde. 2021. "Antibacterial Activity of T22, a Specific Peptidic Ligand of the Tumoral Marker CXCR4" Pharmaceutics 13, no. 11: 1922. https://doi.org/10.3390/pharmaceutics13111922