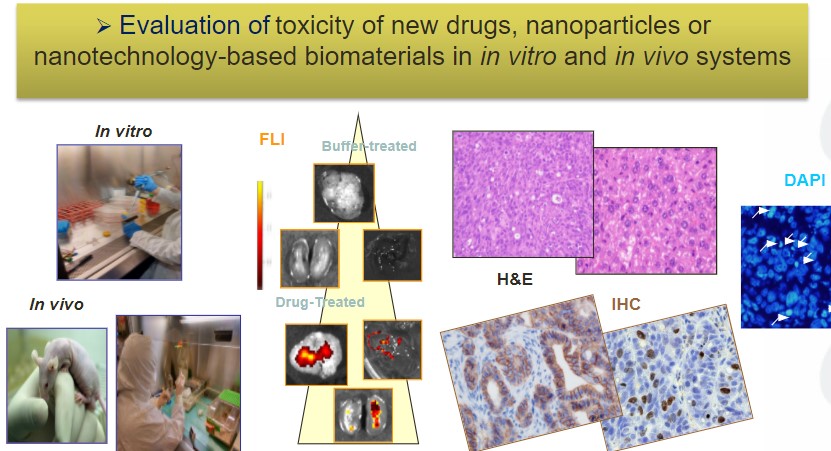 The Nanotoxicology Unit of CIBER-BBN ICTS NANBIOSIS, leaded by Ramon Mangues at the Research Institute of the Hospital de Sant Pau is devoted to evaluate effectiveness and toxicity of novel nanoparticles. This Unit advises clients on the need to study simultaneously anticancer activity and associated toxicity. Thus, preclinical evaluation of novel Nanomedicines is usually carried out performing studies that assess their therapeutic effect, separated from additional experiments devoted to evaluate the toxicity associated with treatment. The dosage used to assess the therapeutic effect, often, significantly differs from the one used to study toxicity, since one is aiming to know the biodistribution of the nanoparticle and whether it is able to control cancer growth, whereas the other tries to identify the maximal tolerated dosage that can be achieved without conferring severe toxicity or lethality.
However, to maximize the effectiveness of novel nanoparticles in the preclinical assessment and their subsequent clinical translation it is important to consider a crucial point of divergence between nanomedicines and classical low molecular weight drugs.
On the one hand, lipophilic small drug bidodistribute by passive diffusion, reaching similar concentration in tumor and non-tumor tissues. Besides, they display a steep dose/effect curve, so that higher doses reach higher anticancer effect (e.g. genotoxic drugs, such as 5-fluorouracil or cisplatin). Nevertheless, this increased effect, obtained intensifying the drug dosage, is achieved at the expense of higher toxicity, that is also dose dependent. In contrast, this situation differs in the case of nanomedicines that use targeted drug delivery, which are capable of selectively concentrating the payload drug delivered by the nanocarrier in target cancer cells, leading to an enhanced uptake in tumor tissue. This effect makes it unnecessary and inefficient to increase the nanomedicine dosage over the one that effectively kill target cells, while maintaining low the associated toxicity. This is because nanomedicines that exploit targeted drug delivery do not have a dose dependent increase in antitumor activity; whereas if administered at high dosage they lose selectivity in their delivery, triggering off-target toxicity, that is likely to be dose-dependent. Thus, increasing the dosage of targeted nanoparticles may increase off-target effects without increasing anticancer effectiveness. In this regard, administering a dosage higher than the one that reaches optimal therapeutic effect can only lead to unspecific internalization in non-target cells and subsequent toxicity.
Therefore, it is our opinion that the evaluation of the tumor and non-tumor tissues biodistribution and the assessment of the therapeutic effect is more informative if at the same time and in the same model is tested the associated toxicity. The testing of various dosage levels will determine which of the evaluated dosage achieves the highest therapeutic window, that is, the one that achieves effective cancer cell killing and optimal antitumor activity without associated toxicity, and the one for which an additional increase in dosage will not improve further the antitumor effect, while increasing instead its toxicity