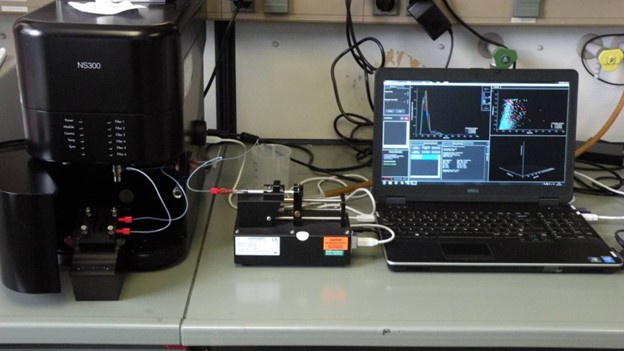 Nanosight NS300; Malvern Instruments
Descripción: Automated analysis of the size distribution and concentration
The Malvern NanoSight NS300 uses the technology of Nanoparticle Tracking Analysis (NTA). This unique technology utilizes the properties of both light scattering and Brownian motion in order to obtain the size distribution and concentration measurement of particles in liquid suspension. A laser beam is passed through the sample chamber, and the particles in suspension in the path of this beam scatter light in such a manner that they can easily be visualized via 20x magnification microscope onto which is mounted a camera. The camera operates at 30 frames per second (fps), capturing a video file of the particles moving under Brownian motion. The software tracks many particles individually and using the Stokes-Einstein equation calculates their hydrodynamic diameters.
Location: Laboratory SCF.  (MATGAS)
More info:  http://www.malvern.com/en/products/product-range/nanosight-range/nanosight-ns300/default.aspx
Especificaciones técnicas:
Wavelength: 405nm (violet), 488nm (blue), 532nm (green) or 642nm (red).
Temperature control range: 5°C below ambient to 55°C.
Stage: Fixed stage.
Focus: Computer controlled motorized focus.
Camera:
Fluorescence: Motorized 6 place filter wheel with choice of filters.
Particle size: 10nm to 2000nm.
Concentration range: 106to 109 particles per mL.