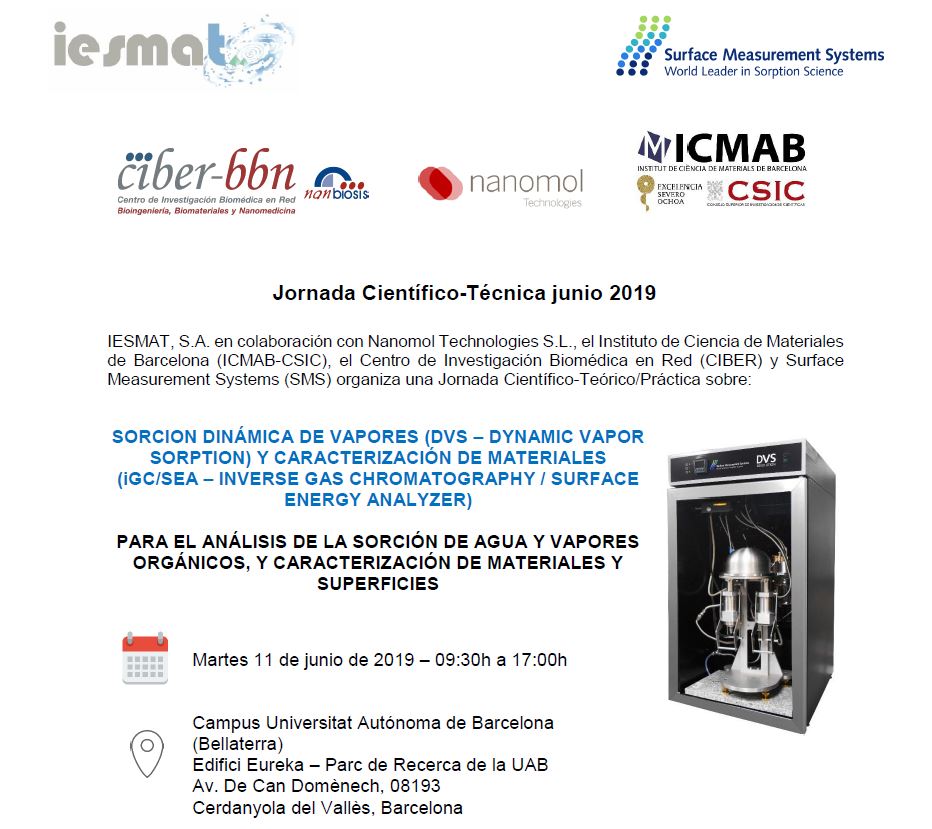 Next June 11, 2019, from 09:30h to 17:00h, will take place in Eureka Building – Parc de Recerca, UAB (Barcelona), a Scientific-Theoretical / Practical Workshop on: DYNAMIC SORPTION OF VAPORS (DVS – DYNAMIC VAPOR SORPTION) AND CHARACTERIZATION OF MATERIALS (iGC / SEA – INVERSE GAS CHROMATOGRAPHY / SURFACE ENERGY ANALYZER) FOR THE ANALYSIS OF THE SORTION OF WATER AND ORGANIC VAPORS, AND CHARACTERIZATION OF MATERIALS AND SURFACES.
The event is organized by IESMAT, S.A. in collaboration with Nanomol Technologies SL, the Institute of Materials Science of Barcelona (ICMAB-CSIC), Surface Measurement Systems (SMS) and the Center for Biomedical Research in Network (CIBER)/NANBIOSIS, includes theoretical presentation DVS (Dynamic Vapor Sorption) technologies and iGC-SEA (Inverse Gas Chromatography – Surface Energy Analyzer).
This workshop, addressed to researchers and/or technicians interested in knowing the mechanism of interaction of a material (pharmaceutical, food, construction, chemical, etc.) with moisture or with any organic vapor, and DVS users, includes: Presentation of equipment and instrumentation of Surface Measurement Systems (SMS) distributed by Specific Instrumentation of Materials (IESMAT). Presentation of users of dynamic vapor sorption equipment. Demonstration of hardware and software of the DVS Intrinsic equipment.
FREE REGISTRATION– until full capacity is reached. To formalize it, contact Ms. Estefanía Écija (estefania.ecija@iesmat.com; 91 650 8005), before June 6th, indicating name, company, telephone and e-mail.