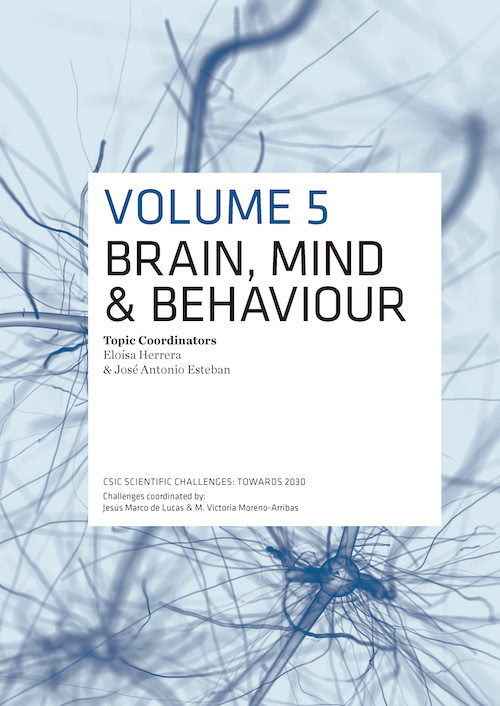 The Spanish National Research Council (CSIC) is publishing the White Papers of the 14 strategic themes established on the basis of their scientific impact and social importance. The pen access to the White Paper of the fifth Challenge, Brain, Mind & Behaviour, is now avaailable. The book is the result of the "CSIC Scientific Challenges: Towards 2030", in which the institution tackles the main issues and priorities for the future. This book is coordinated by Jesús Marco de Lucas and M. Victoria Moreno-Arribas.
Drs. Rosa Villa and Anton Guimera (Biomedical Applications Group, GAB and NANBIOSIS U8 Micro– Nano Technology Unit from CIBER-BBN and IMB-CNM-CSIC) collaborate in the secoond topic of the book: "From genes and circuits to behaviours" and  Rosa Villa also has collaborated on of the eighth topic, "Brain and spinal cord damaged and rehabilitation".
Abstract:
The last decade of the 20th century, officially designated as the Decade of the Brain, brought forth significant advances in our understanding of the biological basis that underlie brain function. Despite this notable progress, neurological and psychiatric disorders currently affect almost a third of the population, a situation that derives from our still uncomplete knowledge of basic principles ruling brain development and function. Today, we are also facing a new era of technological advances that affect our lives in profound ways and we are bound to recast our relationship with our brains. In fact, there is the prevailing view that we are on the verge of new discoveries that will challenge our concepts for self-identity and free will, the privacy of our thoughts, the origins of social behavior or the inner workings of a diseased brain. To accelerate the pace of discoveries in Neurosciences able to prevent and treat mental affections and contribute to reshape the landscapes of other fields, from psychology to economics, education and the law, we need seamless flow of information between neurobiology and other areas of science that provide different but complementary perspectives and research expertise. Given the multidisciplinary wealth of the CSIC and the privileged position of Spanish neuroscience, we are in an optimal position to make a qualitative leap in understanding the mechanisms that control brain activity and be able to turn it into useful knowledge for building a healthier, more responsible society.
CSIC White Papers
What are the major scientific challenges of the first half of the 21st century? Can we establish the priorities for the future? How should the scientific community tackle them? This book presents the reflections of the Spanish National Research Council (CSIC) on 14 strategic themes established on the basis of their scientific impact and social importance.