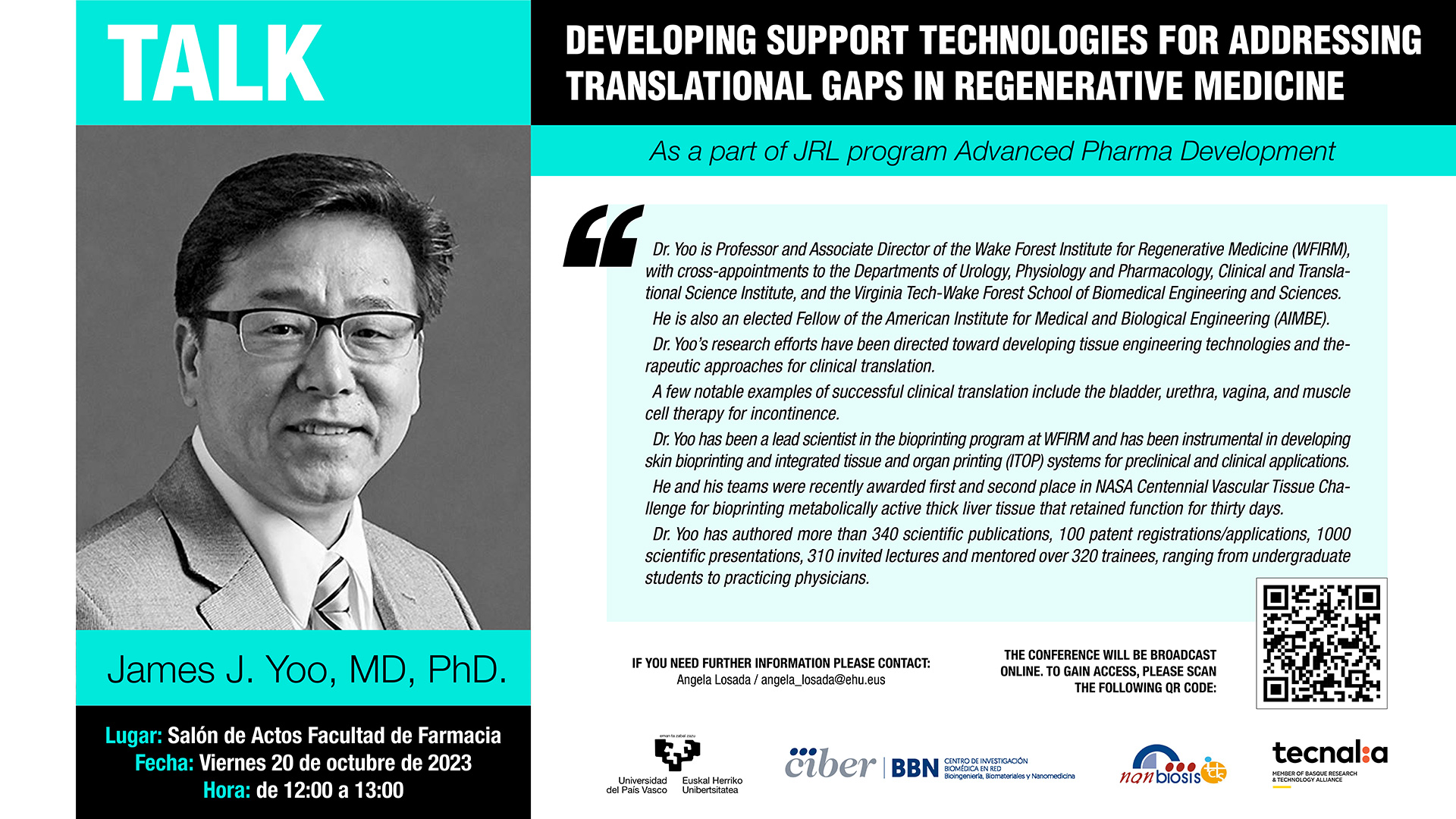 On the 20th of October, CIBER-BBN group NanoBioCell – NANBIOSIS U10 Drug Formulation unit organises the Conference "Developping support technologies for adressing traslational gaps in regenerative medicine" by Dr. James-J Yoo.
The Conference will take place in the Assembly hall of the Faculty of Pharmacy on Friday 20th of October, 2023 from 12:00 to 13:00, as part of the JRL program Advanced Pharma Development. The Conference will be broadcasted.
Dr. Yoo is Professor and Associate Director of the Wake Forest Institute for Regenerative Medicine (WFIRM), with cross-appointments to the Departments of Urology, Physiology and Pharmacology, Clinical and Translational Science Institute, and the Virginia Tech-Wake Forest School of Biomedical Engineering and Sciences. He is also an elected Fellow of the American Institute for Medical and Biological Engineering (AIMBE).
Dr. Yoo's research efforts have been directed toward developing tissue engineering technologies and therapeutic approaches for clinical translation. A few notable examples of successful clinical translation include the bladder, urethra, vagina, and muscle cell therapy for incontinence.
Dr. Yoo has been a lead scientist in the bioprinting program at WFIRM and has been instrumental in developing skin bioprinting and integrated tissue and organ printing (ITOP) systems for preclinical and clinical applications.
He and his teams were recently awarded first and second place in NASA Centennial Vascular Tissue Challenge for bioprinting metabolically active thick liver tissue that retained function for thirty days.
Dr. Yoo has authored more than 340 scientific publications, 100 patent registrations/applications, 1000 scientific presentations, 310 invited lectures and mentored over 320 trainees, ranging from undergraduate students to practicing physicians
For further information contact: Angela.Losada@ehu.eus