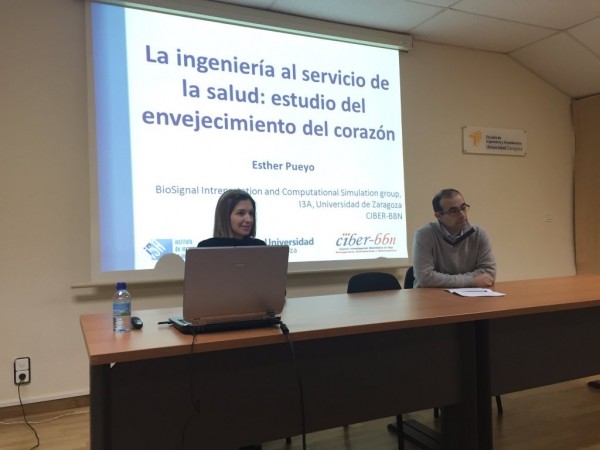 On March 2, 2016 Esther Pueyo, Tenured Professor at the University of Zaragoza and member of the research group BSICoS of CIBER-BBN, presented the research lines of this group, that coordinates Unit 27 of NANBIOSIS, and described the ERC MODELAGE project, which was awarded with a 'Starting Grant' of the European Union funded with 1.5 million euros.
The project progresses in the characterization of human heart aging and the prevention of cardiac arrhythmias. Juan Pablo Martínez, coordinator of the BSICoS group, introduced and moderated the talk, which is incardinated in the series of seminars "Ateneo de la Escuela de Ingeniería y Arquitectura", where ideas on science, technology, scientific thinking, social and human sciences, etc, are presented and discussed.
Current technology allows addressing multi-factorial and multi-scale research of cardiac electrophysiological behavior to improve arrhythmic risk stratification in aged hearts, both on a population basis but also on an individual basis. Esther Pueyo presented the methodologies proposed in the MODELAGE project for this purpose, which integrate in silico modeling with in vitro cell and tissue analysis and in vivo assessment of electrocardiographic recordings. All these investigations will be made possible thanks to the computational capabilities of Unit 27 High Performance Computing of NANBIOSIS.