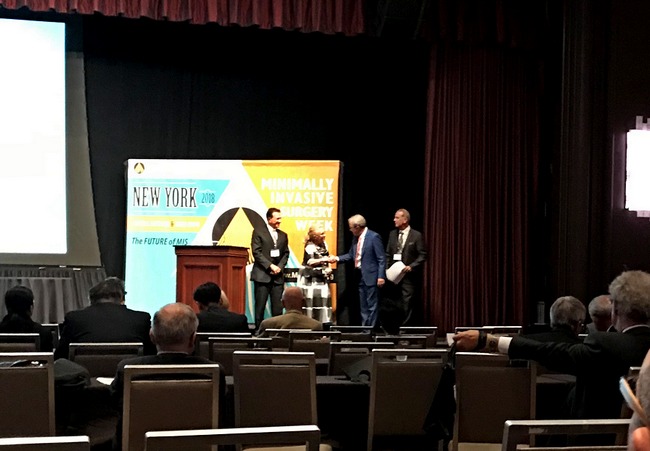 Dr. Francisco Miguel Sánchez Margallo,  Assistant Director of NANBIOSIS and Scientific Director of JUMISC, has attended the multidisciplinary Congress organized by the Society of Laparoendoscopic Surgeons (SLS), held in New York from August 29 to September 1, where he has presented scientific communications with very innovative results in the specialty of urology.
At the annual meeting of this Scientific Society, international specialists related to minimally invasive surgery meet, with the aim of increasing knowledge of laparoscopic, endoscopic and minimally invasive surgical techniques, including robotic surgery.
The papers presented by Dr. Francisco M. Sánchez Margallo, have received the Harrith M. Hasson Award for the best oral communication, for promoting Teaching and Training in the specialty of urology. He has received this award from the wife of Dr. Hasson, one of the pioneers in laparoscopic surgery and inventor of the open laparoscopic technique and the trocar that bears his name.
The objectives of this work are focused on developing a platform for training and surgical assistance in urology, based on mixed reality technology. In addition, an application with this technology is incorporated for viewing, in real time, by surgeons of tomography, resonance and three-dimensional models of patients.
The results of this work have been tested by different experts of the Spanish Association of Urology (AEU) in the operating rooms of the Center, through an application that allows viewing, in real time, the preoperative studies of tomography, resonance and a human pelvic model. in 3D, through a recreation in the Hololens mixed reality glasses, marketed by the Microsoft company.
The second of the papers presented by Dr. Sánchez Margallo has received a mention of scientific honor, showing the results of the analysis of surgical skills and ergonomic studies of surgeons during the use of a novel robotic device in laparoscopic urological surgery.
These studies have involved different professionals from the clinical and technological areas of the Center and collaborators of the Biomechanics group of the University of Extremadura (UEX) and the CIBEX technology company, in addition to the advice of various Spanish urologists.
The Jesús Usón Minimally Invasive Surgery Center Foundation is a unique infrastructure that works in research, training and innovation in the health field.