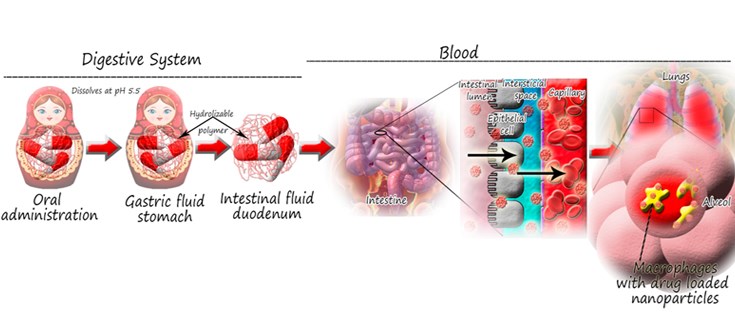 Researchers of NANBIOSIS U9 Synthesis of Nanoparticles Unit Manuel Arruebo and Víctor Sebastián have participated in a research published in the journal Nanomedicine
Tuberculosis is an infectious disease that poses a serious public health problem and, according to WHO data, 10.4 million people became ill with tuberculosis and 1.7 million died in 2016. Therefore, advance in the development of new tools for diagnosis and treatment is essential and the use of nanoparticles could open a new horizon to deal with the infections caused by Mycobacterium tuberculosis.
In this line, researchers from the CIBER at the University of Zaragoza, and at the Germans Trias i Pujol Research Institute, have demonstrated the superior effectiveness in-vitro after the use of polylactic-co-glycolic acid (PLGA) nanoparticles loaded with rifampin. (one of the drugs used in combination for the treatment of tuberculosis), compared to the effect of the free antibiotic.
Researchers have encapsulated rifampicin in nanoparticles, which in turn have been encapsulated in 'Matrioskas' type macroparticles, resistant to the acid pH of the stomach. In this way, the microparticles could be administered orally, a non-invasive way and well accepted by the patient, resist gastric degradation and reach the intestine. There the PLGA nanoparticles loaded with the anti-tuberculosis drug would be released and cross the intestinal wall to reach the systemic circulation and potentially the alveolar macrophages infected by the intracellular pathogen, co-locating the antibiotic-laden nanoparticles with the pathogenic agent. Nowadays rifampicin is administered orally, however it is well known that up to 26% of the dose delivered is degraded in the stomach.
These nanoparticles were able to migrate through an in-vitro epithelial membrane that mimics the intestinal wall and thus be able to fulfill its function of transport and controlled release of the encapsulated drug, which in this way avoids contact with digestive enzymes and with low pH. "This study will lay the foundations for future research based on nanoparticles, aimed at the in vivo evaluation of these nanoparticles with antibiotics in mice infected with tuberculosis," explains CIBERES researcher José Domínguez.
The researchers of this study initiated their collaboration thanks to the TARMAC project, funded thanks to an initiative of the CIBER-BBN, the CIBERES and the Spanish Society of Pulmonology and Thoracic Surgery (SEPAR). This project focused on the development of new tools for the diagnosis and treatment of infectious diseases of the respiratory tract, particularly tuberculosis.
Article of reference: Vanesa Andreu, Ane Larrea, Pablo Rodriguez-Fernandez, Salvador Alfaro, Begoña Gracia, Ainhoa Lucía, Laura Usón, Andromeda-Celeste Gomez, Gracia Mendoza, Alicia Lacoma, Jose Dominguez, Cristina Prat, Victor Sebastian, José Antonio Ainsa & Manuel Arruebo. Matryoshka-type gastro-resistant microparticles for the oral treatment of Mycobacterium tuberculosis.
https://www.futuremedicine.com/doi/full/10.2217/nnm-2018-0258
From CIBER-BBN news