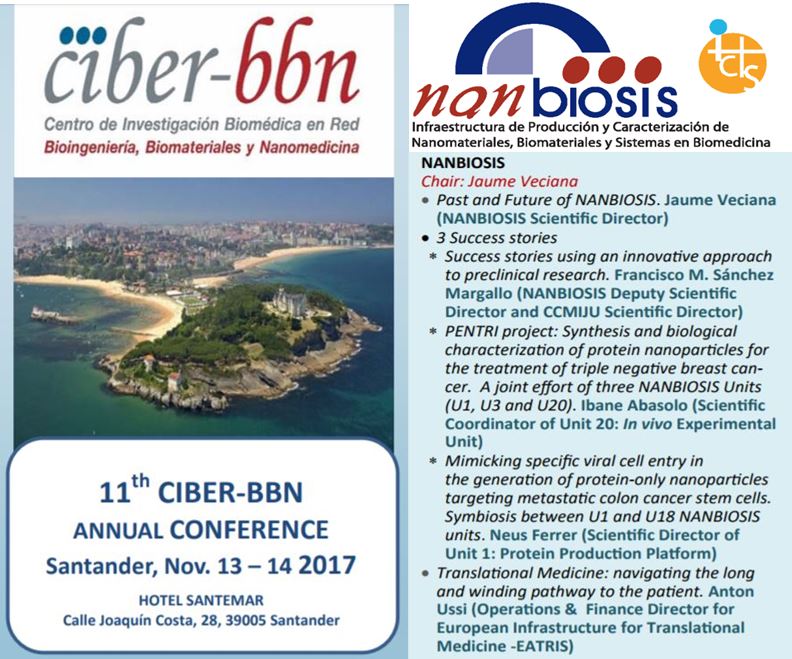 CIBER-BBN will celebrate its 11th Annual Conference on November 13 and 14 in Santander. In these conference there will be a session dedicated to NANBIOSIS. Likewise, the annual meeting of the Scientific Technical Advisory Committee of NANBIOSIS will take place.
As in previous occasions, the meeting will serve to know the activity of NANBIOSIS, the Singular Technical Scientific Infrastructure (ICTS) of the CIBER-BBN and the Minimally Invasive Surgery Center Jesus Usón for the production and characterization of biomaterials, nanomaterials and devices up to its preclinical validation.
As a novelty, it will be presented at the conference, the new internal structure, generated by NANBIOSIS for the development of "turnkey" projects in which, taking advantage of the complementarity and experience of its Units, NANBIOSIS offers complete service packages, with added value, adapted to the client's needs, for applications such as nanotherapeutic agents, regenerative medicine, medical and diagnostic devices, among others. Some of the packages that are already designed or in more advanced stages will be explained, among which stands out the service of characterization and cascade assessment of nanomaterials that includes the characterization of the physicochemical attributes, their biological properties in vitro (immunology, toxicology and efficacy), and its in vivo compatibility (immunology, toxicology and efficacy), using appropriate animal models, with the possibility of being subject to regulatory conditions of Good Laboratory Practices. Some success stories of these "turnkey" projects developed in NANBIOSIS will be shown.
On this occasion, in addition, it is planned a presentation of EATRIS , the European Infrastructure for the Translation of Medicine, with which NANBIOSIS has initiated a line of collaboration.
Since its launch in July 2015, NANBIOSIS has received more than 550 access requests through its website, with an average participation of some 80 competitive projects per year and with an annual income for its services of between 2 and 3 million euros. Among its users, there are more than 100 companies.