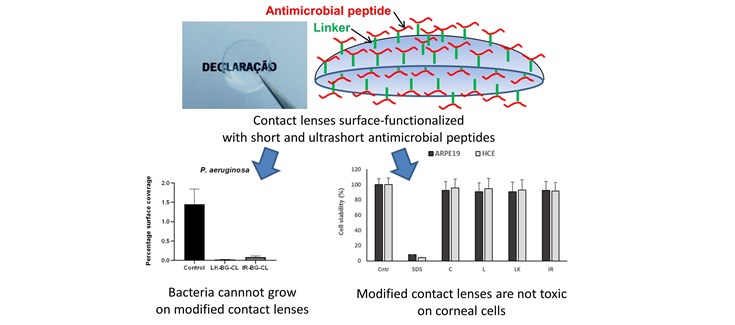 Researchers from NANBIOSIS U12 Nanostructured liquid characterization unit, from CIBER-BBN at the IQAC-CSIC have chemically modified contact lenses, incorporating antibacterial properties. Contact lenses, especially soft ones, pose a risk of ocular microbial infection that can eventually lead to loss of vision.
"These new contact lenses inhibit the formation of bacterial biofilms and could prevent ocular keratitis" explains Jordi Esquena, a researcher at the CIBER-BBN at the IQAC-CSIC and one of the coordinators of the work.
In the study, published in Colloids and Surfaces B: Biointerfaces, bactericidal activity was introduced into hydrogel contact lenses, through antimicrobial peptides that were anchored on the lens surface. The publication describes the obtaining, efficacy and biocompatibility of these contact lenses.
"We have been able to show that peptide functionalized contact lenses can dramatically reduce bacterial adhesion and viability when exposed to Pseudomonas aeruginosa and Staphylococcus aureus," explains Dr. Esquena.
The authors conclude that these systems offer the potential to minimize corneal bacterial infection and represent a suitable platform for future ophthalmic devices.
The characterization of functionalized contact lenses and the studies by fluorescence optical microscopy were carried out mainly in the Nanostructured Liquids Characterization Unit (U12) of the ICTS NANBIOSIS.
Article of reference:
Emiliano Salvagni, Clara García, Àngels Manresa, Claudia Müller-Sánchez, Manuel Reina, Carlos Rodríguez-Abreu, Maria José García-Celma, Jordi Esquena. Short and ultrashort antimicrobial peptides anchored onto soft commercial contact lenses inhibit bacterial adhesión.https://doi.org/10.1016/j.colsurfb.2020.111283