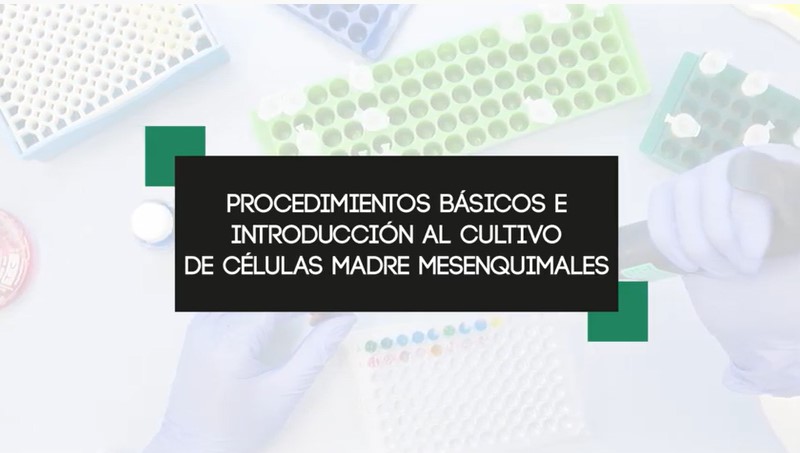 From 30 August 2021 to 29 September 2021 Jesus Usón Minimally Invasive Surgery Centre (JUMISC) has organized an on line course on Procedures and Introduction to Mesenchymal Stem Cell Culture. The course is directected by Francisco Miguel Sánchez Margallo and run by researchers of NANBIOSIS U14 Cell Therapy Unit at JUMISC
Stem cells are cells capable of differentiating into a wide variety of cell types and can be isolated from different tissues. They have regenerative and anti-inflammatory properties thanks to the secretion of paracrine factors. Currently, these cells are being widely used in clinical trials for the treatment of different diseases such as Crohn's disease, multiple sclerosis, diabetes, rheumatoid arthritis or myocardial infarction.
The objectives of this course is to teach the student to work in cell culture rooms, perform stem cell isolations, as well as the maintenance, expansion and conservation of these cell lines. You will also learn to characterize and differentiate these cell lines.
Once the course is finished, the student will be able to know the necessary equipment in a cell culture laboratory, the risks derived from working in these laboratories and the basic rules that must be taken into account to work in cell culture rooms. The student will also learn to prepare culture media, isolate stem cells from different tissues and everything necessary for the maintenance, expansion and conservation of cell lines. In addition, she will be able to acquire knowledge related to the differentiation protocols to different lineages: adipogenic, osteogenic and chondrogenic differentiation.
▶ DIRECTORS
Francisco Miguel Sánchez Margallo
Scientific Director of CCMIJU / Deputy Scientific Director of NANBIOSIS
Esther Lopez Nieto
Researcher at the Cell Therapy Unit of NANBIOSIS of the JUMISC
▶ TEACHERS
Dr Javier García Casado.
Scientific Director of NANBIOSIS U14 Cell Therapy Unit Postdoctoral researcher at the Cell Therapy Unit of the JUMISC
Dr Esher López.
Researcher at the Cell Therapy Unit of the JUMISC / NANBIOSIS
Federica Marinaro.
Researcher at the Cell Therapy Unit of the JUMISC / NANBIOSIS
Mª de los Angeles de Pedro
Researcher at the Cell Therapy Unit of the JUMISC / NANBIOSIS
Maria Pulido
Researcher at the Cell Therapy Unit of the JUMISC / NANBIOSIS
Veronica Alvarez.
JUMISC Superior Laboratory Technician
Information and enrollment here