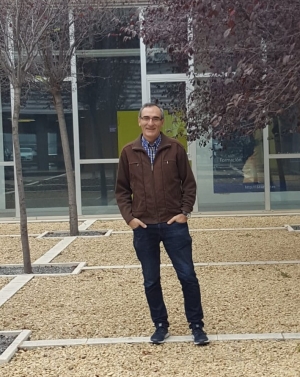 Pablo Laguna Lasaosa, Scientific Director of Unit 27 High Performance Computing has been elected new director of the Aragon Engineering Research Institute (I3A).
Pablo Laguna Lasaosa, Professor of Signal Theory and Communications at the School of Engineering and Architecture (EINA) of the University of Zaragoza, develops its research activity in the field of signal processing, particularly applied to biomedical applications. Laguna is co-author of more than 150 research articles on this subject, more than 10 book chapters, more than 300 international conference documents and director of 15 doctoral theses. He has led a good number of projects on the interpretation of biomedical signals, especially in the cardiovascular domain, most of them with international collaborations with clinical centers, academia and engineering companies.
 
Proff Laguna holds some international scientific responsibilities as a member (2008-2019) and president (2015-2018) of the board of directors of the Computing in Cardiology conference, as editor of the Digital Signal Processing (Eurasip) and Medical and Biological Engineering (Springer), In addition to organizing different scientific conferences. Select member (fellow) of the Institute of Electrical and Electronics Engineers (IEEE), of the European Alliance for Medical and Biological Engineering & Science (EAMBES) and of the International Academy of Medical and Biological Engineering (IAMBE). He is co-author, together with Dr. L. Sörnmo, of the book Bioelectrical Signal Processing in Cardiac and Neurological Applications (Elsevier, 2005), considered a reference in his field.
 
Within the field of university management and research, Professor Laguna has been a member of I3A since its inception, deputy director of International Relations of EINA (1999-2002), principal investigator of the Biomedical Signal Interpretation and Computational Simulation (BSICoS) group of the I3A, coordinator of the Biomedical Engineering division of the I3A (2000-2011) and its deputy director, responsible for the Master in Biomedical Engineering (2003-2010) and of the Doctoral Program in Biomedical Engineering of the I3A since its creation in 2002 until the present. He has also been the scientific director of the Network Biomedical Research Center in Bioengineering, Biomaterials and Nanomedicine CIBER-BBN (2011-2015), where he is still a member.
 
His work program as director of the I3A over the next four years will focus on this important institute of the University of Zaragoza advancing as a reference structure for quality research, multidisciplinary and with a vocation to transfer its results to society.