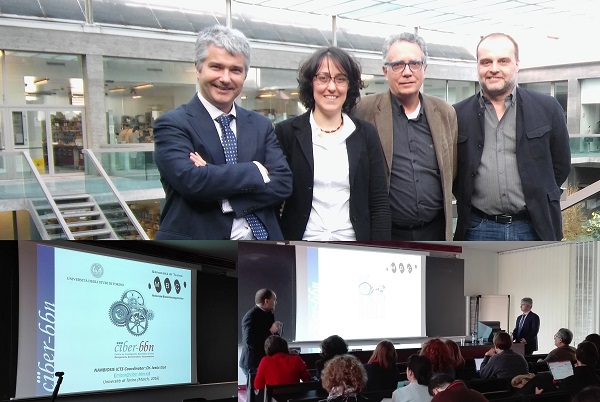 The Scientific Director and the Coordinator of NANBIOSIS, Jaume  Veciana and Jesús Izco, were invited by Professor Stefano Geuna (Professor of Human Anatomy at the Department of Clinical and Biological Sciences of the University of Torino) last 9th of March 2016 to present the CIBER-BBN, its scientific program and  its technologies to researchers of l'Università di Torino, in order to explore the possibilities of collaboration between the two institutions and promoting joint projects.
The meeting took place at the Molecular Biotechnology Center of the Molecular Biotechnology and Health Science department (www.mbc.unito.it/en ). The audience was made up of members representing six departments such as Department of Molecular Biotechnology and Health Sciences, Department of Neurosciences or the Department of Medical Sciences among others. After the presentations, up to ten face to face meetings were organized with research groups and staff of the Internalization Office from different departments to look for synergies and find out ways of collaboration. Topics such as nanoencapsulation for drug delivery, functionalization of biomaterials for regenerative medicine, especially for nerve regeneration or cell therapy for cancer were discussed and many common interests were detected. Following up the meeting, several actions were agreed and some of them have been already initiated to start new collaborations between both institutions.
L'Università di Torino is actively developing biotechnologies in the field of biomedical sciences, with specific focus on the study of the molecular mechanisms at the basis of physiopathological processes that have a great impact on human health, such as cardiovascular diseases, inflammation, stem cell biology and cancer. These researches are based on experimental work carried out by the biomedical departments of l' Università di Torino.