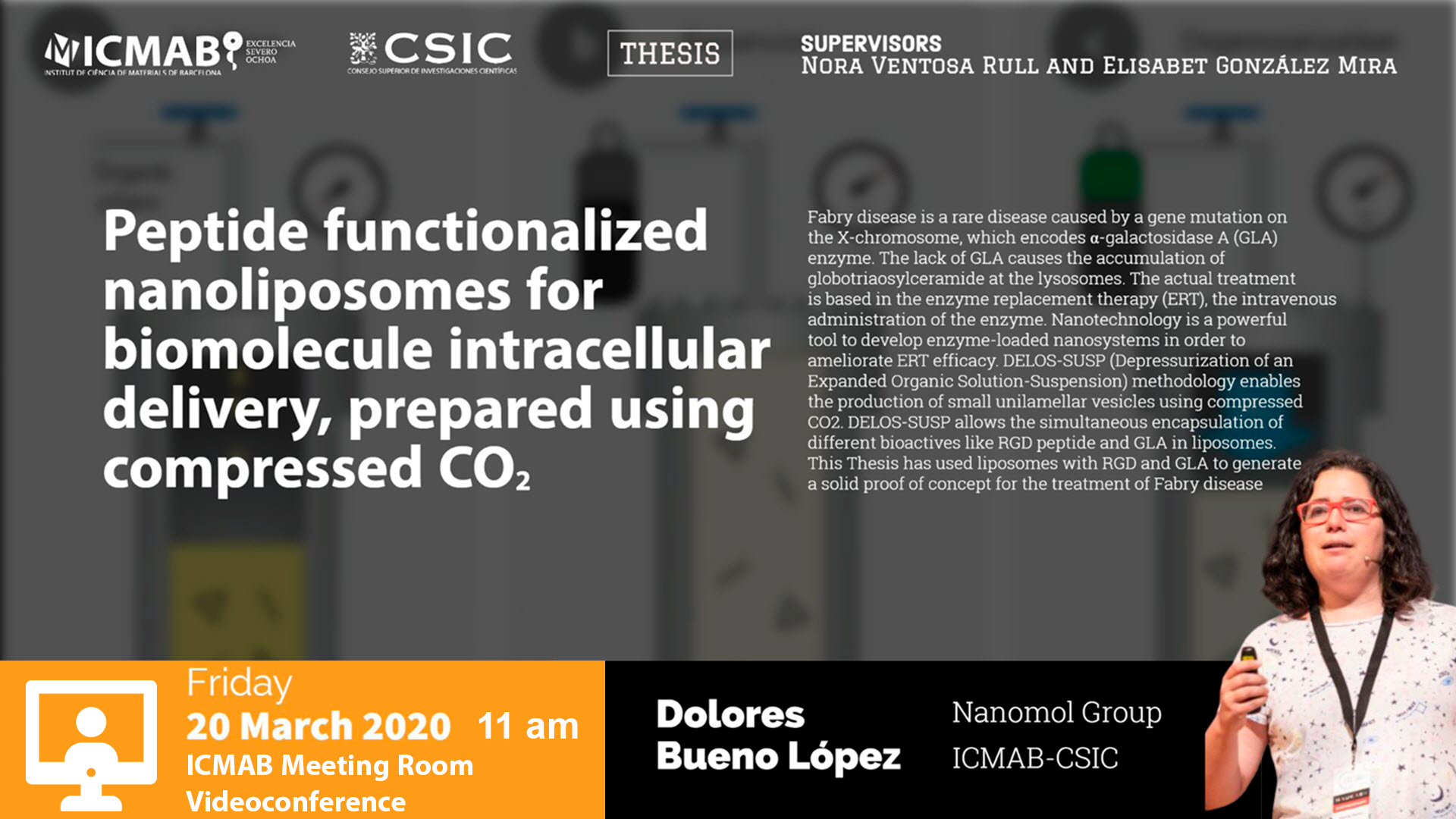 The PhD Researcher Dolores Bueno researcher of NANOMOL Group and NANBIOSIS Unit 6 Biomaterial Processing and Nanostructuring Unit (from CIBER-BBN and ICMAB-SCIC) has defended her PhD thesis today, 20 March 2020, by videoconference from the ICMAB Meeting Room. No public was allowed due to the drastic measures of containment taken to tackle COVID-19.
Peptide functionalized nanoliposomes for biomolecule intracellular delivery, prepared using compressed CO2 
Abstract: Fabry disease is a rare disease caused by a gene mutation on the X-chromosome, which encodes α-galactosidase A (GLA) enzyme. The lack of GLA causes the accumulation of globotriaosylceramide at the lysosomes. The actual treatment is based in the enzyme replacement therapy (ERT), the intravenous administration of the enzyme. Nanotechnology is a powerful tool to develop enzyme-loaded nanosystems in order to ameliorate ERT efficacy.
DELOS-SUSP (Depressurization of an Expanded Organic Solution-Suspension) methodology enables the production of small unilamellar vesicles using compressed CO2. DELOS-SUSP allows the simultaneous encapsulation of different bioactives like RGD peptide and GLA in liposomes. This Thesis has used liposomes with RGD and GLA to generate a solid proof of concept for the treatment of Fabry disease.
Supervisor:
Nora Ventosa Rull, NANOMOL Group, ICMAB-CSIC Scientific Director of NANBIOSIS Unit 6
Elisabet González Mira, NANOMOL Group, ICMAB-CSIC