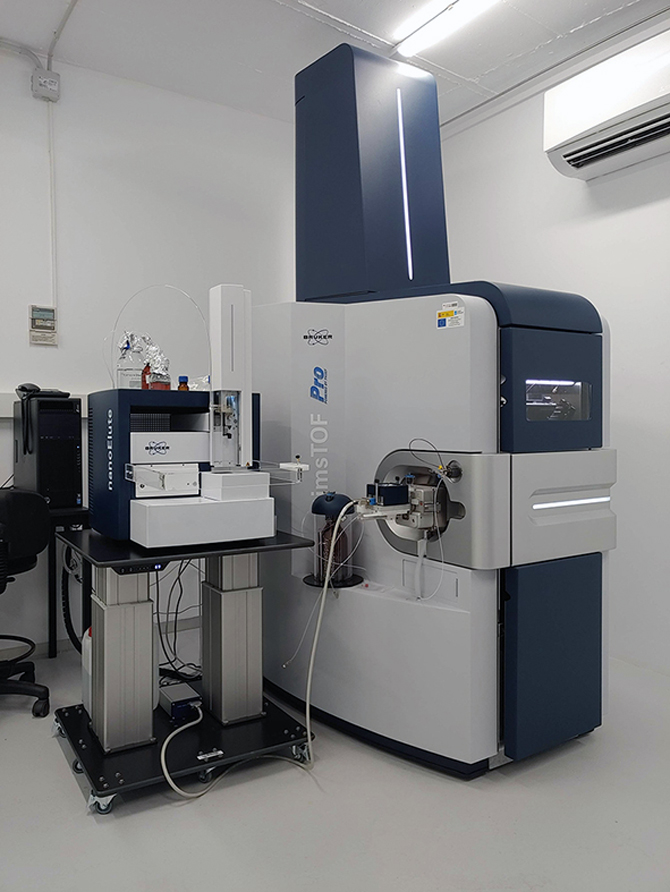 Nanbiosis
TIMS TOF Pro LC-MS/MS System
Description: Liquid nanochromatography system coupled to high resolution mass spectrometry with ion mobility (Bruker).
Technical specifications: The system consists of a nanoElute® chromatograph, which works at gradients between 50-2000 nL/min and is coupled to a TimsTOF mass spectrometer (Bruker) with an electrospray source. This spectrometer has two analyzers in hybrid configuration quadrupole and time of flight. It features a TIMS ion mobility trap that adds a fourth dimension of separation, as well as PASEF (Parallel Accumulation Serial Fragmentation) technology, which enables sequencing speeds of over 100 Hz, providing extremely high throughput and sensitivity.
Applications: Determination of molecular masses of peptides, proteins and other biomolecules. Protein identification by peptide fragmentation. Shotgun quantitative proteomics analyses by isotopic labeling (SILAC, iTRAQ, TMT…) or label-free (LFQ). Targeted quantitative proteomics analyses by PRM.