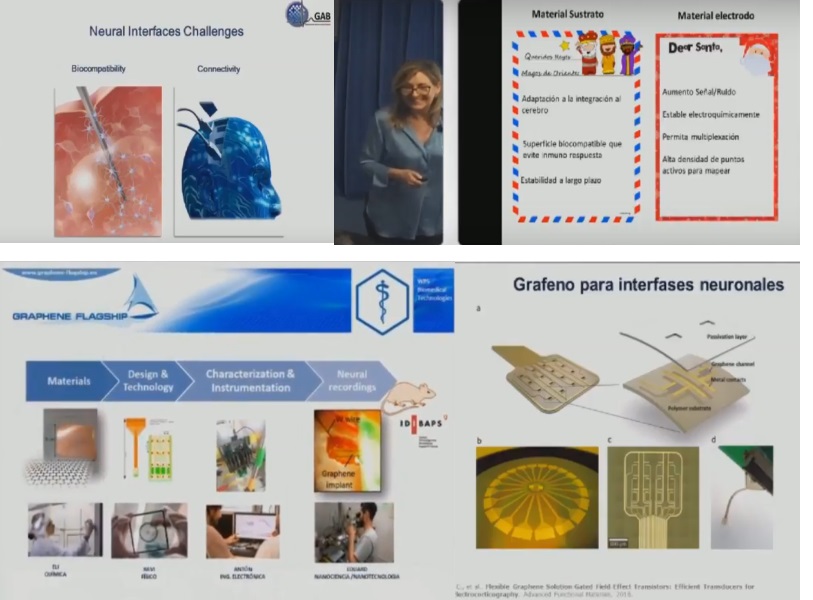 Dra. Rosa Villa,  Scientific Director of NANBIOSIS U8. Micro – Nano Technology Unit, explained last June, 11 at the Residence of Researchers of Barcelona the great scientific challenges in finding tools that allow a good interaction between the nervous and the artificial system.
This talk is part of the series of conferences organized by the CNM with the theme "Why research in micro-electronics?" Dr. Manuel Lozano, Director of the CNM, introduced the talk explaining that with microelectronic technology scientists  can capture the signals that occur in the nerves and in the brain and presented Rosa Villa  as a doctor  with a PhD in cochlear implants (electronic medical devices that perform the work of damaged parts of the inner ear (cochlea) to provide sound signals to the brain). Dr. Villa now directs the group of biomedical applications of the CNM that currently uses nano technologies in their research. Her training in medicine and microelectronics has allowed her to tackle electronic-based projects with biomedical application. Her lines of research are focused, nowadays, on neural interfaces and on organ-on-chip technology, (a multi-channel 3-D microfluidic cell culture chip that simulates the activities, mechanics and physiological response of the entire organs and organ systems, the group of Dr. Villa works mainly the liver, very useful for the test of drug patho-toxicity).
In this talk, Rosa Villa explains her second line research of neural interfaces, the development of suitable interfaces between the biological systems and electronic devices and how they study the improvement of the necessary technologies to restore the motor skills or to know how the brain works applying microelectronic techniques.  These investigations run into the main problems of biocompatibility and conectivity and Rosa Villa shows us her letter to Santa Claus to solve them and how graphene is being of great help.
You can see the whole conference clicking here
The video includes a funny class by Eli Prats to produce graphene at home.