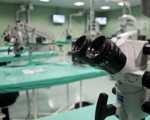 Francisco Miguel Sánchez Margallo, Scientific Director of  CCMIJU and NANBIOSIS U21. Experimental operating rooms, is co-author of the publication "Interpretation of motion analysis of laparoscopic instruments based on principal component analysis in box trainer settings" published by Surgical Endoscopy
The study results show that three new HSMAPs per hand were defined for PG and PC tasks, and two per hand for KS task. PG presented validity for HSMAPs related to insecurity and economy of space. PC showed validity for HSMAPs related to cutting efficacy, peripheral unawareness, and confidence. Finally, KS presented validity for HSMAPs related with economy of space and knotting securitya. Thus, PCA-defined HSMAPs can be used for technical skills' assessment. Construct validation and expert knowledge can be combined to infer how competences are acquired in box trainer tasks. These findings can be exploited to provide residents with meaningful feedback on performance. Future works will compare the new HSMAPs with valid scoring systems such as GOALS.
The study has been develloped with surgical facilities of high technology that allow in vivo efficacy assays of drugs, nanomedicines, biomaterials and others, performed at unit 21 of NANBIOSIS.
Article of reference: Oropesa, I., Escamirosa, F.P., Sánchez-Margallo, J.A. et al. Surg Endosc (2018) 32: 3096. https://doi.org/10.1007/s00464-018-6022-6