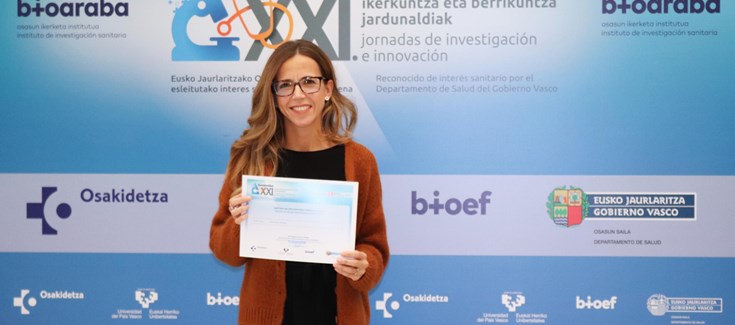 The CIBER-BBN researcher at the University of the Basque Country (UPV-EHU), Laura Saenz del Burgo, received, within the framework of the XXI Bioaraba Research and Innovation Conference, the award for the "Best Emerging Researcher 2020".
The researcher of the NanoBioCel group of the UPV / EHU, who belongs to the CIBER BBN and the U10 Drug Formulation of the ICTS of Nanbiosis, is an active part within the research group led by Jose Luis Pedraz and focuses her work in the areas of Regenerative Medicine , Tissue Engineering and 3D-Bioprinting.
The conference was held at the Palacio de Congresos de Europa, in Vitoria (Álava) last Thursday, November 5. It is a meeting forum between research staff, both from the health system and the university, the company, technology centers, institutions and citizens.
The Bioaraba Research and Innovation Awards want to recognize and encourage people and institutions whose dedication directly affects the improvement of the health and quality of life of the population, through not only purely scientific or healthcare work, but also from a contribution adequate social.