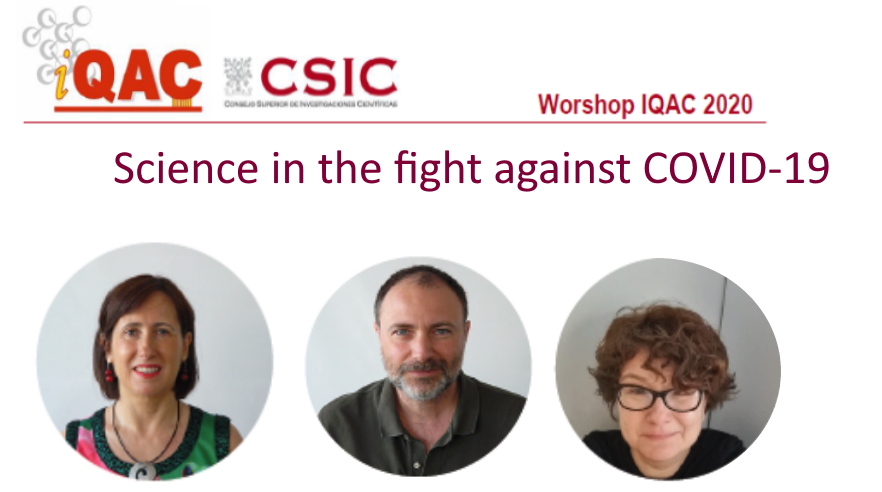 The 4th Annual IQAC Symposium will take place on September 23, 2020. This year will be dedicated to the research projects on COVID-19 that are being carried out in the IQAC-CSIC. It will be a dissemination day aiming to inform the general public about some of the lines of research that are currently being developed in the fight against the COVID-19 pandemic.
The event will be live streamed in Facebook: facebook.com/iqac.csic.es/
Three of the speakers, members of CIBER-BBN NANBIOSIS units at IQAC-CSIC, will explain their work. Pilar Marco and Roger Galve (NANBIOSIS U2 Custom Antibody Service (CAbS) will talk about "Wearable Devices for Detection rapid SARS-CoV-2" and Miriam Royo (NANBIOSIS U3 Synthesis of Peptides Unit shall inform about "Peptide-based chemical tools as diagnostic and therapeutic agents of COVID-19″
Further information and program: http://bit.ly/2ZLVT0o
The Institute for Advanced Chemistry of Catalonia (IQAC) is one of the research centers of the Spanish National Research Council (CSIC). The Institute is located in Barcelona and it was created in 2007 with the mission to perform research of excellence in Chemical Sciences with the broad goal of improving the quality of life. The research developed at IQAC is organized around two main nodes: Biological Chemistry and Nanobiotechnology, many of the investigations carried out by the Research Groups at IQAC lie at the intersection between nodes.
Since 2007 CIBER-BBN and IQAC-CSIC have created four Units of equipment and resources for research wich are part of NANBIOSIS and have been recognized by Spanish Goverment as ICTS (scientific and technical infrastructures, unique in its kind, that are dedicated to high quality research and technological development). The other two units Besides U2 an U3 are: U12 Nanostructured liquid characterization unit, led by Prof. Carlos Rodriguez Abreu and Unir29 Oligonucleotide Synthesis Platform (OSP), led by Prof. Ramón Eritja.
One on the projects in which NANBIOSIS units at CSIC are working in the fight against COVID-19 is CSIC POC4CoV project to develop diagnostic technologies for SARS-COV-2 in which participate 3 of our Units.