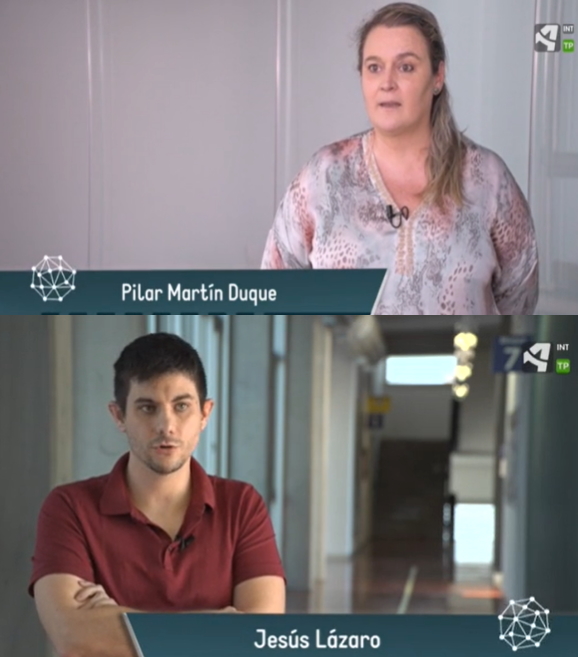 The special program on the coronavirus pandemic  by "En Ruta con la Ciencia" of Aragón Televisión, analyzes different aspects of the disease with special attention to the work of Aragonese scientists. Among them, two  research groups that coordinate NANBIOSIS units 9 and 27.
Starting at minute 44'45 'of the program, Doctor Jesús Lázaro, researcher of the BSICoS group of I3A-UZ and CIBER-BBN, led by Pablo Laguna, which coordinates NANBIOSIS U27 High Performance Computing Unit, explains his research. For almost 3 years, Jesús Lázaro had been working on a European project to develop a respiratory and heart rate monitoring system for patients with EPOC to control and predict episodes of worsening disease, but the current situation has led him to redirect his goal to try to provide solutions in this crisis and have creates an application for the mobile phone to detect from our home, if we have a viral infection: – "The parameters measured by this application have to do with the nervous system Autonomous, – explains Jesús Lázaro – they are the heart rate, its variability and the respiratory rate, these three parameters would allow observing a response through SARS-COV-2. The application works based on a technology that uses the flash of the mobile phone camera as a receiver to obtain a signal that is proportional to the blood volume of the finger put on the flash light, what allows detecting both, the number of beats per minute and the morphology of the arterial pulse, to obtain the respiratory rate. At the moment this application has been tested by the research staff and the next phase is to assess it with the general public. As the application is based on detecting autonomic markers, a very high sensitivity is expected, as well as a very low specificity, which would allow detecting not only SARS-COV-2 but analyzing these parameters in other contexts and in other diseases, even detecting other eventual viruses of other eventual pandemics ".
Further information on the research project here
Starting at 28'14 '' One of the problems of the coronavirus test is what is known as false negatives, people who have passed the disease, but are not detected and could continue to spread it. A research group is developing early diagnostic tests to try to reduce this error rate. Pilar Martín Duque, at the IACS Aragonese Institute of Health Sciences, is a researcher of the NFP group of the INA and the CIBER-BBN, led by Jesús Santamaría, which coordinates NANBIOSIS U9 Synthesis of Nanoparticles Unit : – "All techniques have a detection limit and a sensitivity, it is necessary to have a minimum amount of virus in the body for the virus being detected, if the viral load is low it may not be detected at that time, it is possible that some patients with a low viral load recover, but in other cases the virus begins to grow and after two weeks they can be positives"- explains Pilar Martín. Her project makes PCRs more effective by concentrating the viral load before testing. – "There is a curious case, – continues Pilar -, of an American navy ship, moored in China, in which five sailors were detected to be infected by coronavirus, so they were quarantined during fourteen days and, after new tests with negative results, they were allowed to return to the United States on the ship. However halfway through the journey, the same five sailors suffered an outbreak of the disease. Therefore, our study would be useful for detecting patients with the virus tested for the first time or for not discharging patients who had been already diagnosed if they really are not yet negative".  It is estimated that 10% of the population has infected 80%, these 10% are the so-called "superspreaders", they are infected with a high viral load, but they feel well and do not know about it. For example, there have been several cases in choirs, such as the Choir of Zarzuela in Madrid, where 53 members were contagious out of the 80 members form the choir, this is because when singing or speaking very loudly, more drops are produced that carry the virus". But why do some people become infected before others? Pilar explains that this is related to some, already known, receptors for entry of viruses, the AC2 receptors, and there are people who has more of these receptors than others.
Further information on the research here:
If we have learned anything from this pandemic it is the importance of health and research, a robust research system has the knowledge, tools, and human talent to respond to any situation. If we want to be prepared for the next pandemic, it is important and essential to continue betting on research.
Tags:
AC2 receptors
,
Coronavirus
,
COVID-19
,
Covid-19 tests
,
En ruta con la ciencia
,
Jesus Lazaro
,
mobile phone app
,
Pandemic
,
Pilar Martin Duque
,
SARS-COV-2
,
superspreaders
,
viral load