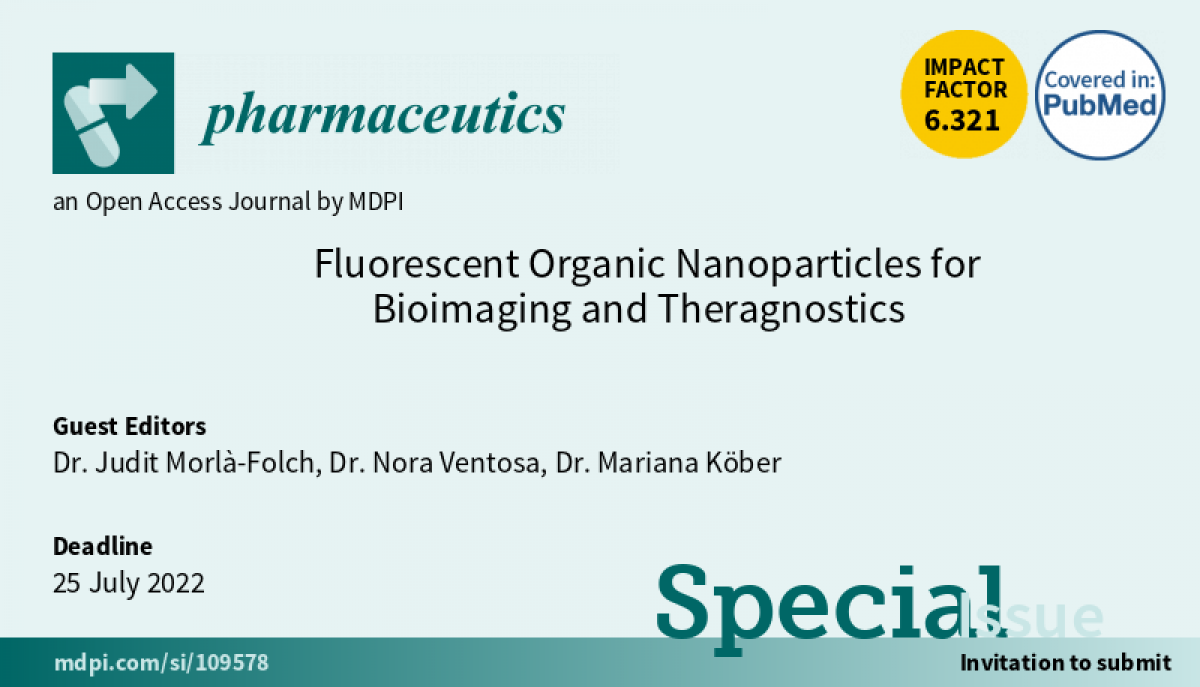 Nora Ventosa and Mariana Köber, from NANBIOSIS Unit 6 of CIBER-BBN and ICMAB-CSIC, and Judit Morlà-Folch, from the BioMedical Engineering and Imaging Institute at the Icahn School of Medicine at Mount Sinai, New York, are editors of the Special Issue of MDPI Pharmaceutics.
The Special Issue on "Fluorescent Organic Nanoparticles for Bioimaging and Theragnostics" belongs to the "Nanomedicine and Nanotechnology" section and has a deadline for manuscript submissions on 25 July 2022.
The guest editors explain the main topic of this Special Edition:
"Fluorescence-based techniques play an essential role in the study of biological events in tissues and animals due to their specificity and noninvasive nature. However, realizing the whole potential of today's fluorescence imaging and detection in terms of speed, resolution, and sensitivity, requires fluorescent labels that combine stability, a very high brightness, and a high photostability.
In this regard, novel, bright and stable organic fluorescent nanoparticles have evolved rapidly during the last few years, allowing further development of novel, experimental treatments and imaging strategies, including photodynamic therapy or image-guided surgery.
These results shine a spotlight on fluorescent nanomaterials as promising candidates for imaging and theragnostics in several health disorders. In this Special Issue, we invite authors to report on their recently developed, fluorescent, organic nanoparticles for imaging, diagnostics, and the treatment of diseases."
If you have a relevant manuscript, you can submit it at MDPI in the submission form before 25 July 2022. All papers will be peer-reviewed, and research articles, review articles or short communications are invited. For planned papers, a title and short abstract (about 100 words) can be sent to the Editorial Office for announcement on this website. More information on submission here. 
About the Pharmaceutics MDPI Journal
"Pharmaceutics (ISSN 1999-4923) is an online open access journal on the science and technology of pharmaceutics and biopharmaceutics. The scientific community, the wider community and the general public have unlimited and free access to the content as soon as a paper is published; this open access to your research ensures your findings are shared with the widest possible audience. Please consider publishing your impressive work in this high quality journal. We would be pleased to welcome you as one of our authors." – Editor-in-Chief Prof. Dr. Yvonne Perrie from the Strathclyde Institute of Pharmacy and Biomedical Sciences at the University of Strathclyde.
Source of information: ICMAB-CSIC