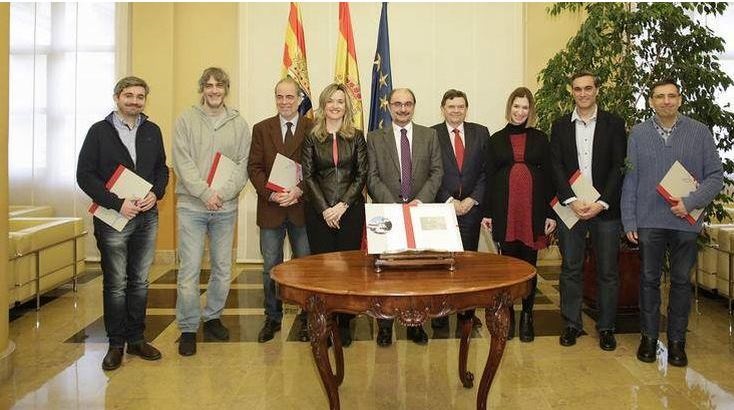 Government of Aragón, Spain, paid tribute to the seven scientists who have a grant of European excellence and develop their projects at the University of Zaragoza: Jesús Santamaría, Diego Gutierrez, Igor Irastorza, Esther Pueyo, Manuel Arruebo, José Manuel García Aznar and Jesús Martínez de la Fuente.
President of the Government of Aragon, Javier Lambán, has personally expressed his gratitude and appreciation for the work of seven researchers from the University of Zaragoza who have been granted with projects of excellence funded by the European Research Council.
Jesús Santamaría, Scientific Director of Unit 9 of NANBIOSIS, with an Advanced Grant funded with 1.85 million euro, is working on a project to develop a microreactor that enables the industry to save energy and raw materials.
Esther Pueyo, member of the research group BSICoS of CIBER-BBN, which coordinates Unit 27 of NANBIOSIS, has a Starting Grant of 1.5 million and is studying the aging of the heart to propose new markers of risk for arrhythmias in the aging population.
Manuel Arruebo member of the research group Nanostructured films and particles of CIBER-BBN, which coordinates Unit 9 of NANBIOSIS, with a Grant Consolidator 1.5 million for the project Nanohedonism, develops injectable nanoparticles created with microfluidic reactors for the controlled and remote delivery of drugs in the treatment of chronic pain.