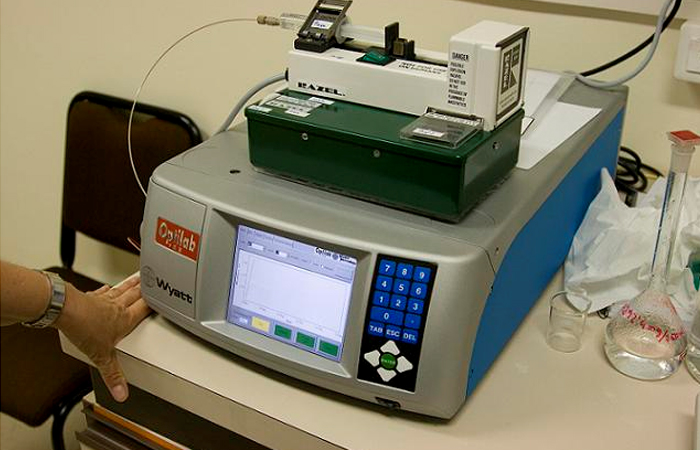 U12-E10. Optilab rEX Differential Refractometer
Description:
The Optilab® rEX (refractometer with EXtended range) is a Refractive Index measurement system. It has a flow cell with a total volume of only 7.4 µL. This translates into minimized band broadening and better temperature stability. It can measure the absolute refractive index of a solution. In addition, it can measure the dn/dc of a solvent at a fixed wavelength. The light source in the rEX can be replaced for other wavelengths (e.g. 690, 633, 488 nm, etc.). The temperature can be programmed from 4°C to 50°C. It is compatible with all HPLC systems.
Applications:
Refractive Index determination, mainly of liquid samples, can be useful in measurements of other techniques (Dynamic Light Scattering as an example). It can be also possible to calculate the refraction index as a function of concentration for a compound. This can allow you to determine the purity or concentration of the compound which is dissolved in a liquid.