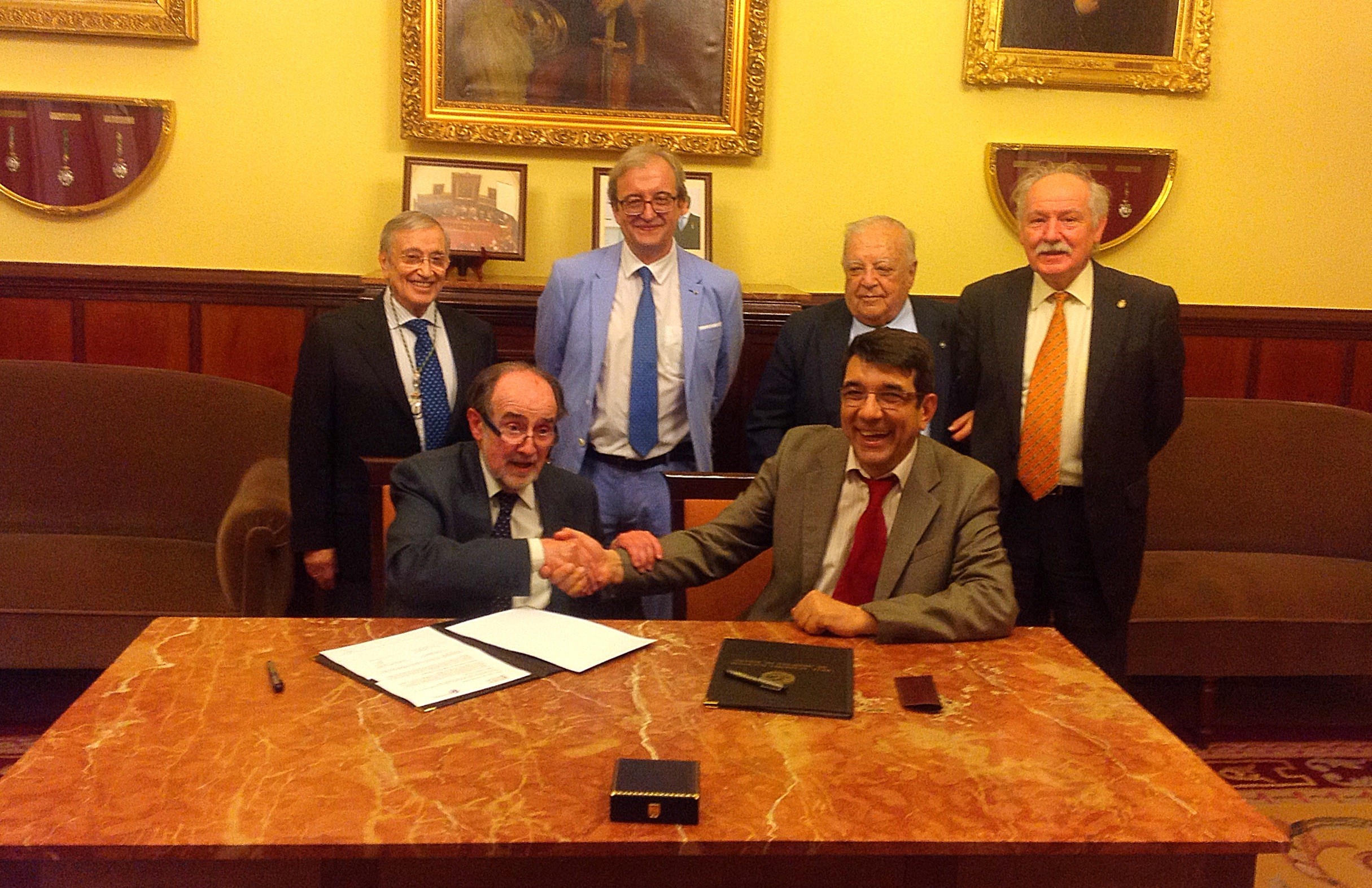 The Real Academia Nacional de Medicina and the Centro de Cirugía de Mínima Invasión Jesús Usón, located in Cáceres, have signed a cooperative agreement in the field of training and cooperative R&D projects.
Last 24th April, Professor Joaquín Poch Broto, President of the Real Academia Nacional de Medicina (RANM) and Mr. Luis Casas Luengo, the CCMIJU's Managing Director, met at Madrid to sign a cooperative agreement.
This event, held at the Yellow Room of the Academia, counted on Prof. Vicente Calatayud (Academic Member), Prof. Luis Pablo Rodríguez (General Secretary), Dr. Francisco Miguel Sánchez Margallo (CCMIJU's Scientific Director), and its founder, Prof. Usón Gargallo (Honorary President).
On one hand, this agreement focuses on training, mobility, stays, grants… and on the other hand, on didactic activities, carrying out postgrad courses and seminars. It includes the cooperation in R&D projects, specifically in all related to the development of new materials, tools, equipment and new systems in the health field.
The signing considers the cooperation with other companies and research institutes to promote and improve the training of the physicians.
The RANM promotes and carries out activities to develop medicine and spreads its results for the application to society. On 13th March, Academy agreed to support CCMIJU's candidacy to Princesa de Asturias Awards, in International Category.
The CCMIJU is devoted to research, training and innovation. From 2014 it is one of the 29 existing Singular Scientific Technological Infrastructure (ICTS) in Spain.