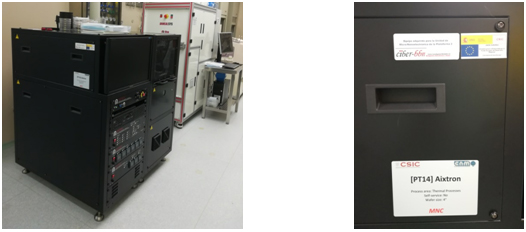 The CVD machine grows both single and multiwalled carbon nanotubes, using both plasma-enhanced CVD (PECVD) and/or thermal CVD. It enables the production of advanced CNT Micro-Nano-Bio Systems (MNBS) for biological, chemical or biochemical analysis. As the suitability of the interface of any MNBS device is a critical point, the selective growth of CNT improves the electrode-electrolyte interface enhancing the biomonitoring.
Its specifications are:
›› Heat processing control up to 900ºC, with controlled ramps of up to 300ºC/min.
›› Plasma control; completely configurable source. Possibility of working without plasma.
›› Camera for 4" wafers.
›› Camera for following the process.
›› Possibility of processes in high vacuum (5 mBar) and at atmospheric pressure (800 mBar).
›› Process gases: hydrogen, methane, acetylene, argon,
ammonium and air.
See